2 Books That Influenced My Thinking About The Relationship Between Man & Nature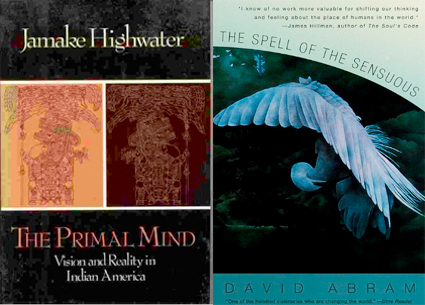 Two books have profoundly influenced my thinking about man's relationships with nature.
Jamake Highwater's The Primal Mind is the best explanation of Native American viewpoints on the deep interconnectivity between humans and land, as well as art, that I've ever read.
Here's an excerpt …
"Art is a way of seeing, and what we see in art helps to define what we understand by the word "reality." We do not all see the same things. Though the dominant societies usually presume that their vision represents the sole truth about the world, each society (and often individuals with the same society) sees reality uniquely. The complex process by which the arts transforms the act of seeing into a vision of the world is one of the the consummate mysteries of the arts – one of the reasons that art is inseparable from religion and philosophy for most tribal peoples."
David Abrams The Spell Of The Sensuous is a poetic rumination on the important role language plays in forming identity and relationships – and he suggests the English language lacks key concepts.
Here's an excerpt …
"Ecologically considered, it is not primarily our verbal statements that are "true" or "false," but rather the kind of relationsh that we sustain with the rest of nature. A human community that lives in a mutually beneficial relation with the surrounding earth is a community, we might say, that lives in truth."
Find The Spell Of The Sensuous here.
Listen to me read two of my favorite passages from these books here.
Find more Recommended Reading here.
(For more reading in this vein click on Important Thoughts.)