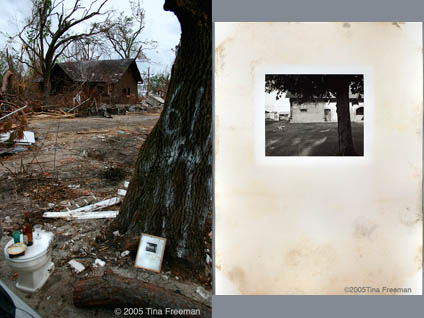 Inkjet prints survived floods where silver gelatin prints didn't.
It's one of the worst situations. Your life's work is immersed under water. Tina Freeman found herself in that situation. She was amazed to find that many inkjet prints had survived where many silver gelatin prints had not.
"This is the print and where it was found after Katrina. I also found another print three months after finding this one, it was in the same shape. You'll see a scan of the Piezotone print that survived 20 feet of salt water and three months in the blazing southern sun. This print was framed and you can see the mark that the mat made but the print area is pristine and exactly matches the image before the storm. In the other image you will see the site of the house where the image was found – the house that the print was in was completely demolished, this house was next door. These prints, two of about fifteen found, showed no evidence of fading! These prints are tough- no silver print would have survived this trial in tact, we didn't find any more but they may have been buried beneath the rubble of the house which was about 150 yards northeast of the original site. The print was printed on Hanemühle Photo Rag the Piezotone pigment was Museum Black."
Don't try this at home – except under the most controlled situations.
Do rest assured, your pigmented inkjet prints are more durable than you think.
Find out more about Tina Freeman here.
Find out more about digital printing and my digital printing workshops here.