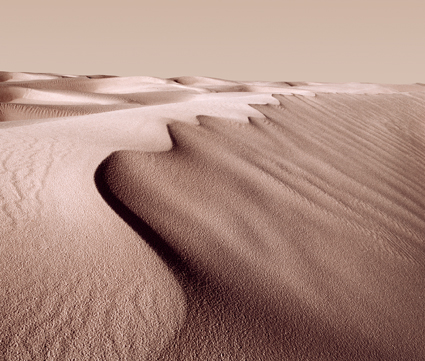 During my White Sands, New Mexico workshop, we'll be photographing in the same area for the next four days. On our first sunrise shoot, I timed the light and how it affected subjects.
5:45    Color on horizon
6:00    Color in sky
6:15    Color bright on horizon
6:30    Highlights on dunes
6:45    Strong texture    Large areas of shadow
7:00    Less            Less
7:30    Less            Less
8:00    Less            Less
8:30    Dark sides of dune affected by substantial fill light
12:00  No shadow
3:30    Long shadows
4:00    Substantial shadow
4:30    Fifty percent shadow
4:40    Highlights are accents only
4:50    Sun below horizon, definition falls, pink mountains to east
5:00    Color in sky blooms
5:30    Color in sky largely gone
5:45    Dim light in sky
Now I know what the light will do and when. I'll use this information everyday for the next three days. So will everyone else. Making notes on site can really pay off. And this is just one kind of note you can make.
Find free Creativity ebooks here.
Find out about my 2010 White Sands Workshop here.