24 Great Quotes On Unfinished Work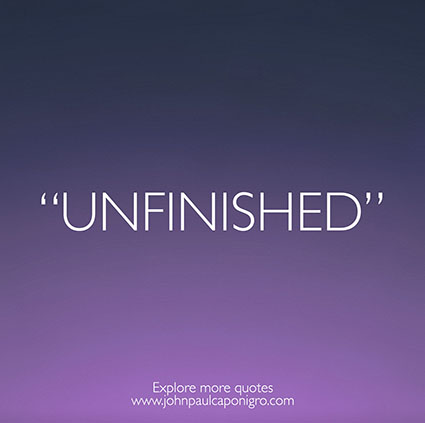 Enjoy this collection of quotes on the state of being Unfinished.
"Never show unfinished work." – R. Buckminster Fuller
"Behind unfinished art cries an unfinished artist." – Terri Guillemets
"Art is never finished, only abandoned." – Leonardo da Vinci
"A drawing is essentially a private work, related only to the artist's own needs; a 'finished' statue or canvas is essentially a public, presented work – related far more directly to the demands of communication." – John Berger
"A drawing is an autobiographical record of one's discovery of an event – either seen, remembered or imagined. A 'finished' work is an attempt to construct an event in itself." – John Berger
"There are dozens of unfinished or aborted projects in my files, but I can only assume they don't get done because they're not robust enough to struggle through the birth process." – Grant Morrison
"A man who becomes conscious of the responsibility he bears toward a human being who affectionately waits for him, or to an unfinished work, will never be able to throw away his life. He knows the 'why' for his existence, and will be able to bear almost any 'how.'" – Viktor E. Frankl
"Moms and dads don't last forever. If you've got unfinished business, we need to face that, and that's not easy. Every child wants to love their mother and their father. Love is the most important thing, and when they feel rejected and unloved, that hole can never be filled by anyone else." – Goldie Hawn
"When I get on a roll with something, it's really hard for me to put it down unfinished." – Taylor Swift
"Finish the work, otherwise an unfinished work will finish you." ― Amit Kalantri
"If I feel like I've completely drained every ounce of energy out of me for this song, and I can't go any further with it, then I stop, even if the song is unfinished. Most of the time, when it's finished, it's because I've used every ounce of me to write it." – Ella Henderson
"I know the sag of the unfinished poem. And I know the release of the poem that is finished." – Mary Oliver
"Whether you are a writer or an actor or a stage manager, you are trying to express the complications of life through a shared enterprise. That's what theatre was, always. And live performance shares that with an audience in a specific compact: the play is unfinished unless it has an audience, and they are as important as everyone else." – Lee Hall
"I never want projects to be finished; I have always believed in unfinished work. I got that from Schubert, you know, the 'Unfinished Symphony.'" – Yoko Ono
"I always believed that my work should be unfinished in the sense that I encourage people to add their creativity to it, either conceptually or physically." – Yoko Ono
"When I'm playing, I'm never through. It's unfinished. I like to find a place to leave for someone else to finish it. That's where the high comes in." – Miles Davis
"When you run a part of the relay and pass on the baton, there is no sense of unfinished business in your mind. There is just the sense of having done your part to the best of your ability. That is it. The hope is to pass on the baton to somebody who will run faster and run a better marathon." – N. R. Narayana Murthy
"The world will little note, nor long remember what we say here, but it can never forget what they did here. It is for us the living, rather, to be dedicated here to the unfinished work which they who fought here so nobly advanced." – Abraham Lincoln
"I know I will leave my work unfinished. I just hope I planted enough seeds in my children and grandchildren that they will continue." – David Robinson
"Anybody great, we're all interested in the relics. If you found an unfinished Gauguin, you'd still want to see it." – Derek Walcott
"What I'm really looking to do is retire undefeated; I'm not sure when the right time to retire will be, but I know that I'm not done yet. Something still feels unfinished, and that's why I'm going to keep going." – Ronda Rousey
"You are an unfinished work in progress. One of the good things about life's challenges: you get to find out that you're capable of being far more than you ever thought possible." ― Karen Salmonsohn
"Existence is a series of footnotes to a vast, obscure, unfinished masterpiece." – Vladimir Nabokov
"Can anything be sadder than work left unfinished? Yes, work never begun." – Christina Rossetti
Explore The Essential Collection Of Creativity Quotes here.
View The Essential Collection Of Creativity Videos here.
Discover more quotes in my social networks.