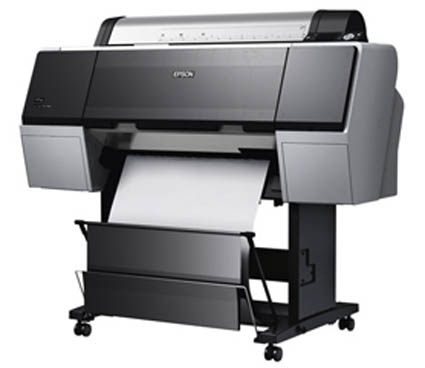 Epson recently announced their new 7900 24″ and 9900 44″ printers and ink technologies Epson UltraChrome HDR Ink.
Find out more about the new Epson printers here.
LONG BEACH, Calif. – Oct. 28, 2008 – Representing a level of technology unprecedented in Epson's history, Epson America today announced its next generation of professional ink jet printers – the 24-inch Epson Stylus® Pro 7900 and the 44-inch Epson Stylus Pro 9900. This Epson Stylus Pro series incorporates Epson's latest achievements in photographic ink jet technology, including Epson's MicroPiezo TFP™ print head with new Epson UltraChrome® HDR Ink technology, to deliver a higher level of print quality, increased performance with speeds almost twice as fast as previous models, and the widest color gamut ever from Epson Stylus Pro printers.
"We continue to innovate, refine and expand the limits of professional ink jet printing with every new introduction of an Epson Stylus Pro printer," said Mark Radogna, group product manager, Professional Imaging, Epson. "The Epson Stylus Pro 7900 and 9900 printers truly redefine what's possible from ink jet printing, offering creative professionals a superior printing solution. The new Epson Stylus Pro series is poised to dramatically redefine commercial, flexographic and package proofing, as well as professional photographic and fine art printing."
Based on unique high-density pigment chemistry, Epson UltraChrome HDR ink technology offers all-new Orange and Green inks, and when combined with Epson's innovative AccuPhoto™ HDR screening technology, delivers the industry's most advanced ink jet printing technology. The result is greatly enhanced photographic print quality with exceptionally fine photographic blends and transitions, and highly accurate highlight-to-shadow detail. In addition, Epson UltraChrome HDR offers excellent print permanence ratings for color and black-and-white prints and outstanding short-term color stability for a broad range of mission-critical proofing applications.
Also new to the Epson Stylus Pro series is an optional high performance, in-line spectrophotometer for commercial proofing applications. Developed by Epson in partnership with X-Rite®, the SpectroProofer™ incorporates a high performance X-Rite ILS20 spectrophotometer for extreme measurement accuracy. When driven by the latest front-end RIP software, Epson's SpectroProofer can automate virtually any color management process in today's printing workflows.
Whether producing sellable color or black-and-white photography, fine art reproduction or producing color accurate commercial and flexographic proofs for client approvals, the new Epson Stylus Pro series offers a range of features and next-generation technologies that allow creative professionals to produce their vision without compromise.  Key features and benefits include:
• Ten-Channel, High-Precision MicroPiezo TFP Print Head: Produces a maximum resolution of 2880 x 1440 dpi and variable-sized droplets as small as 3.5 picoliters with highly accurate dot shape and placement to greatly decrease print times while optimizing photographic quality; latest ink-repelling coating and auto nozzle verification technologies virtually eliminate clogged nozzles
• Automatic Black Ink Switching: Both Photo and Matte Black ink cartridges are installed simultaneously, enabling the printers to automatically utilize the optimal black ink mode to deliver maximum black density for the chosen media; auto-sharing black ink channel on the MicroPiezo TFP print head ensures a fast and efficient switch that is managed via the front control panel
• Epson PreciseColor™ Manufacturing: Evaluates and adjusts each printer's performance at the manufacturing stage, ensuring consistent color output from printer to printer and print to print, eliminating the need for internal calibration devices
• Epson ePlaten™ Media Loading Technology:  Simplifies the roll and cut-sheet media loading process with automatic media loading, movement, skew adjustment, and tracking, including electronically controlled roll media back tension and automatic roll media rewind upon release
• Professional Media Handling: Handles virtually any media type, roll or cut sheet, up to 24- and 44- inches wide via a unique straight-through media path; a printer and driver-based media identification and synchronization system ensures error-free media use
• New Rotary Cutting System: Includes a durable rotary cutter for use with roll paper capable of cutting virtually any media type, including most canvas and fine art papers, in less than two seconds
• Intelligent High-Capacity Ink System: Features 11 individual ink cartridges available in 150, 350 and 700 ml capacities with "on-the-fly" ink cartridge replacement for increased productivity; pressurized ink cartridge technology ensures reliable ink delivery at all print speeds, while dramatically reducing the physical size of the ink cartridges
• Easy-to-Use Front Control Panel: High-resolution, 2.5-inch, color LCD offers improved viewing of printer status with a simple button layout for all navigation and basic printer functions
Epson Stylus Pro Series and myEpsonPrinter.com
The new Epson Stylus Pro 7900 and 9900 are compatible with myEpsonPrinter.comSM, a unique Web-based printer information and management system that is currently available for free while in beta. The site enables commercial printing professionals to monitor print jobs and consumables virtually in real time, including tracking ink and media consumption, managing printers at remote locations, robust reporting, and intelligent support, allowing Epson Stylus Pro printer owners to manage their Epson printer investment. For more information visit www.myEpsonPrinter.com.
Availability, Service and Support
The Epson Stylus Pro 7900 and 9900 will be available in November 2008 through authorized resellers for $3,995 and $5,995 (MSRP) respectively. They are supported by a standard Epson PreferredSM Limited Warranty, a one-year program that includes toll-free advanced telephone access Monday through Friday and usually next-business-day on-site service in the unlikely event of any hardware failure. Optional Epson Preferred Plus Service Plans are also available, offering one or two additional years of protection.
About Epson America Inc.
Epson offers an extensive array of award-winning image capture and image output products for the consumer, business, photography, and graphic arts markets. The company is also a leading supplier of value-added point-of-sale (POS) printers and transactions terminals for the retail market. Founded in 1975, Epson America Inc. is the U.S. affiliate of Japan-based Seiko Epson Corporation, a global manufacturer and supplier of high-quality technology products that meet customer demands for increased functionality, compactness, systems integration and energy efficiency. Epson America Inc. is headquartered in Long Beach, Calif.
See the new printers in action in my workshops.