Justin A. Hartford – Next Step Alumni Group Exhibit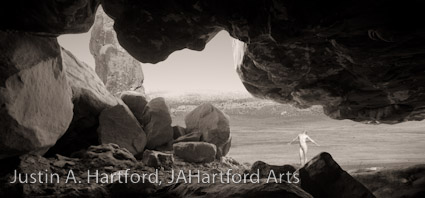 For over 10 years I've been mentoring a select group of individuals. Their progress has been thrilling to watch. It's been a true privilege to be a part of their growth. July 7 their first Group Exhibit will be unveiled at the Maine Media Workshops. (link)
Justin Hartford has been a member for the past 2 years. Here are a few important things he learned from other members and his work.
Alumni Insights
1)    Kathy Beal taught me to respect, ask permission, and thank the land that I am photographing. Keeping this practice helps to bring a sensitivity to my work that otherwise would not be there.
2)    At the first Next Step summit I attended in Utah, many of the attendees suggested I work with self-portraiture. This suggestion has helped guide me down a path that I otherwise might have been scared to go.
3)    Shooting along side many different Next Steppers has shown me different ways to approach photography and to see my subject.
Artist's Statement
Proserpina is a Greek Goddess whose name means "to emerge". She is synonymous with springtime when she emerged from her six months of residing in hell. This series is about how we as humans so often stay in our own caves not letting the real us be seen so that we can be accepted by society. It can be comforting to stay hidden away and not be judged. It can also create an inner hell to keep who we really are deeply hidden away for fear of judgment.
See more of Justin's work here.
See the Next Step Exhibit at the Maine Media Workshops July 7 – 30.
Find out more about my workshops here.

Next Step Alumni Experience
My participation in the Next Step group has been through many channels. I was first asked to join the group after my second workshop with JP. My initial contact was an introductory e-mail sent to the group via the Yahoo Groups. Since then I have been caught up in a whirlwind of experiences. I attended the Next Step Summit in Utah (September 2007),  the Next Step Summit at JP's studio in Maine (October 2008), I have been extremely active online with our Monthly Assignment group and responding to general questions and discussions from various members. I have critiqued and drooled over images on Flickr from members and given my opinions on bodies of work that have been submitted for the group exhibit. I have many one on one conversations with friends I have made in the group and have even met a few members when time and location permit. The latest event was when JP, myself and Paul Tornaquindici took a ten day trip to Namibia. Every contact with a Next Step member brings a new idea and adds a new dimension to my life.
Biography
Hartford did not find photography for quite some time. For over a dozen years, he worked in the family insurance business along side his brother. He was pulled to make a change in his life and answered the call by pursuing his artistic side in 2006; It was then that he found solace behind the lens of a camera. In the fall of that year he spent a week with John Paul Caponigro and got a taste of true image manipulation, it was then that he knew he was truly on the right track.
Read more about Justin here.