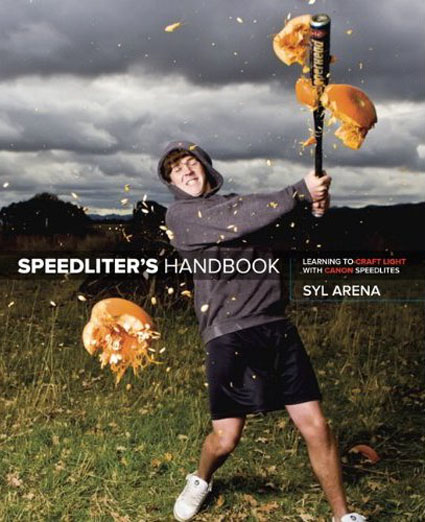 "Getting your Canon Speedlite to produce the light you need can be a real challenge. For those new to flash photography—or for anyone who has previously given up out of frustration—Speedliter's Handbook is a revelation. Photographer Syl Arena takes you on a journey that begins with an exploration of light and color, moves through a comprehensive discussion of the Canon Speedlite family and all of the accessories and equipment available to the Speedliter, then settles down to crafting great light in one photo shoot after another. Whether you want to create a classical portrait, shoot an event, or simply add a little fill light to a product shot, Speedliter's Handbook shows you how.
Illustrated with over 500 images, Speedliter's Handbook covers:
•    how your camera sees versus how you see light
•    all the buttons and dials of the entire Canon Speedlite family
•    the basics of on-camera flash…and getting your flash off the camera
•    how to beautifully balance flash with the existing ambient light
•    all the equipment necessary for great Speedlite shots
•    how to get amazing shots with just one Speedlite
•    how and when to use E-TTL versus manual flash
•    the use of color gels to balance color, as well as create dramatic effects
•    how to tame the sun—or any really bright light—with hi-speed sync
•    and much, much more
Whether you're shooting portraits, events, or sports, Speedliter's Handbook is an essential resource that teaches you how to craft the light you need for any type of shot you want."
Find out more about Syl's lighting seminar and workshop series.
Get the book here.
Learn more at Speedliting.com.
About Syl Arena
It's hard to say whether Syl Arena is known around the world more for his "colorful" hair or his "colorful" blog, PixSylated. Either way, he has a memorable persona. Syl bought his first Canon camera nearly 30 years ago as a young student at Brooks Institute of Photography. He still has that camera, an A-1, sitting in a place of prominence among his collection. Through the years, Syl mastered many film formats–35mm, 4×5, 6×7…. After his tenure at Brooks, he transferred to the art school at the University of Arizona–there he built a pinhole camera that used 20? x 24? litho film. Eventually the regents let him go with a BFA in hand.
When the recent Speedlite revolution unfolded, Syl joined in as an active participant. He has used Canon Speedlites routinely in his commercial work for years. As a pro shooter, Syl photographs the people, lifestyles, and products of California's Central Coast for editorial and corporate clients.
You should also know that Syl is an energetic workshop instructor. His expertise in Canon flash is so extensive that last summer Nikon's CLS-master Joe McNally brought Syl in as the guest instructor to support the Canon shooters at his Dobbs Ferry Workshop series. Syl also serves as Director of the Paso Robles Workshops: a boutique workshop program that produced week-long programs with Speedlight-wizards Joe McNally and David Hobby.