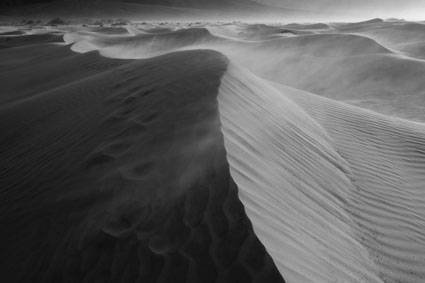 In my Death Valley digital photography workshop, Steve Lumpkin stumbled into a real keeper. "I looked back and realized my footsteps would soon be gone." This was more than a magic moment; it was also a moment of personal insight. Steve made the most of his situation and invested a lot of himself in his image both literally and figuratively.
Was it the adversity of the situation, photographing in high winds on a dune field, that encouraged him to shoot from the gut? Was this a deep-seated feeling waiting to be expressed? Whatever it was the image has emotional intensity and it's loaded; it works on many levels both formally and thematically.
What does or would it take for you to make loaded images?
Read more in my creativity lessons.
Find out more about my Death Valley digital photography workshop.
Learn more in my digital photography workshops.