Enterprise Island / Wilhelmina Bay / Cuverville Island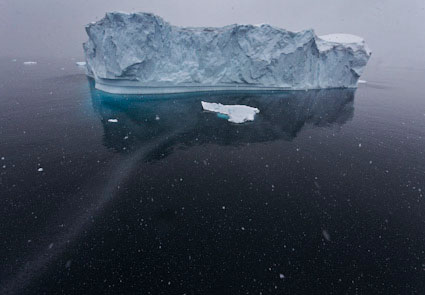 We wandered all day, shooting from the decks and reviewing images, through ice-choked fjords scattered with intermittent cloudbursts, alternating between rain, sleet, and snow looking for dramatic ice. The ice appeared to be younger, lumpier, flatter, snow laden, rather than the older more dramatic blue striated and scalloped masses that contain cracks, crevice, windows, arches and seemingly infinite blue masses below the waterline. We used the larger ship as a zodiac, keeping us and our equipment warm and dry and giving us a higher angle of view. Our captain, Alexi, the man who got us through The Gullet in 2009, impressed us once again with his daring and extraordinary skill. He made it look so easy that new passengers didn't notice the artful way he wove through the ice fields. Masters make sophisticated tasks look easy. We hear the Lamaire Channel is still choked with ice and few if any ships have made it through. We're hopeful that we'll be among the first, because our captain is Alexi.
At the end of the day we landed at Cuverville Island, one of the largest Gentoo penguin colonies sheltering thousands of birds amid a series of dramatic peaks. Our Quark expedition leader Graham found out how ice obsessed our group was when twenty people opted to go zodiac cruising amid the most impressive ice field we've encounter yet on this trip. Rain hampered our efforts making it more difficult shooting but we soldiered on. Though many images were lost due to the adverse conditions, no one lost a camera. First-timers were wowed. Veterans knew that this was only the beginning.

Find out about our next Antarctica digital photography workshop here.
Sign up for the pre-announce list for our next Antarctica voyage.
Email jpc@digitalphotodestinations.com.