Neko Harbor / Paradise Bay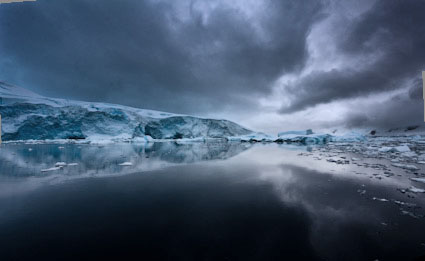 Katabatic winds gusting up to 50 mph delayed our landing at Neko Harbor, our first continental landing. The classic walk to the overlook of the glacier and the zodiac cruises were cancelled in favor of ice cruising with the ship. There's more ice this year and 2011 is becoming known for it's inclemency. The winds died down by the time we arrived in Paradise Harbor. Patches of calm water created exquisite symmetrical reflections. Looking down into the water you could simultaneously see both the white ice above the waterline, it's reflection on the surface of the water, and the aqua ice below the waterline. This was the best zodiac cruise of the day. The cloud ceiling came down upon us once again as we left to our next location. Thick sea ice choked the channels before us. Images of historic expeditions becoming ice locked flashed before us. We plowed slowly through sea ice throughout the night to our next location.
I presented my seminar Tell Your Story and Seth covered Lightroom's Develop module.

Find out about our next Antarctica digital photography workshop here.
Sign up for the pre-announce list for our next Antarctica voyage.
Email jpc@digitalphotodestinations.com.