Creative Sharpening With NIK's Viveza and ColorEfex Pro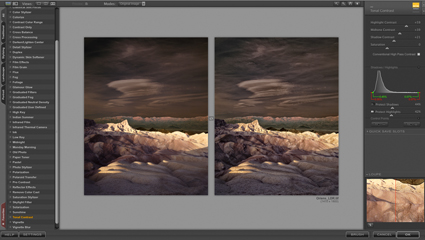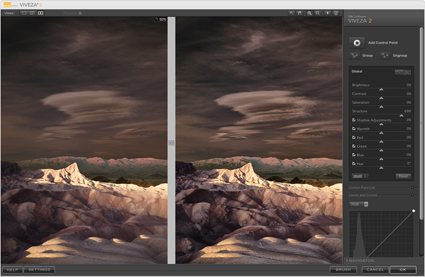 Both NIK's Viveza and Color Efex Pro offer useful additions to a digital artist's set of detail enhancement tools. Viveza provides Structure while Color Efex Pro provides Tonal Contrast. Consider them both useful variations of the types of effects you can produce with Photoshop's High Pass filter. So what specifically are the visual differences?
Like Photoshop's High Pass filter, Viveza's Structure provides a single slider but offers more options with the inclusion of negative values for soft focus effects. In contrast to High Pass, Structure enhances contours with a line that is not as pronounced as Unsharp Mask (Structure is almost incapable of producing artificially hard contouring.) and thinner than High Pass (Structure can't be used for enhancing planar contrast like high values of High Pass.). Structure accentuates texture somewhat, which can enhance noise as well as detail, but not as much as Unsharp Mask. When Structure is applied, luminosity contrast increases, more so in shadows than in highlights where very high values stop just short of compromising shadow detail. Think of Structure as occupying the visual territory that lies between Unsharp Mask and High Pass.

Color Efex Pro's Tonal Contrast offers the most control with four sliders; Highlight Contrast, Midtone Contrast, Shadow Contrast, and Saturation. Tonal Contrast is less like Photoshop's Unsharp Mask and more like High Pass with a touch of Shadows/Highlights thrown in for good measure. Particularly excellent at enhancing highlight detail, Tonal Contrast can go far beyond Photoshop's Shadows/Highlights and produces more contour targeted effects similar to NIK's Structure. If used aggressively Shadow Contrast can run the risk of obscuring shadow detail. Highlight Contrast and Midtone Contrast accentuate noise far less than Structure, but this is not true of Shadow Contrast. Tonal Contrast's greatest strength is its ability to target specific ranges of tone with only lesser effects in adjacent tonal ranges. In the final analysis, Tonal Contrast produces detail enhancement effects that are similar in many ways to processing files with HDR algorithms.
NIK's algorithms are different than Photoshop's the so they produce a different look and feel. What could be more important in creative sharpening? Add NIK's effects to Photoshop's Unsharp Mask and High Pass and you can choose to play detail in your images with a solo, duet, trio or quartet.
Get 15% off NIK all products with this code – JPCNIK.
Find out more about NIK here.
Read more about digital sharpening here.
Learn more in my digital photography and digital printing workshops.