Masterworks In My Collection – Joyce Tenneson – Kristin, Hands In The Air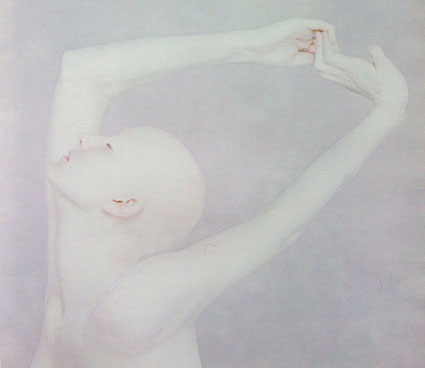 Artist's often use consistent palettes for separate bodies of work, some use a consistent palette for a lifetime. This not only makes their work more readily identifiable, it also clarifies the nature of the statements they make. When an artist does this color becomes more than attractive, it becomes a message.
Joyce Tenneson has done this masterfully. Her typically airy palette both light and desaturated give her nude or near nude portraits a distinctive look. The delicacy of her palette not only makes a statement about the more sensitive nature of her subjects but also reveals her own sensitive approach and relationships with her subjects. Her high key palette suggests a concern with spirituality, perhaps more strongly than her occasional inclusions of painted light.
Tenneson often portrays figures in ways that defy conventional representations of the body, selecting alternate body types or ages, posing them in uncharacteristic ways that create expressively complex distortions, and including unusual props.
In Kristin Hands In The Air, the woman's lack of hair gives this image an edgy undercurrent. Viewers would not be wrong to guess that the woman is struggling with illness. As with so many of Tenneson's portraits, this image strips away the daily concerns of persona and fashion to show a deeper character in her subjects, tenderly but unflinchingly revealing both their fragility and an uncommon strength in these fleeting moments of grace made more durable by the act of photographing them.
(There's a lot to be learned from looking at originals, which is why we look at masterworks from my collection in all of my  digital printing workshops.)
Find my comments on other Masterworks In My Collection here.
Learn more in my digital printing workshops.