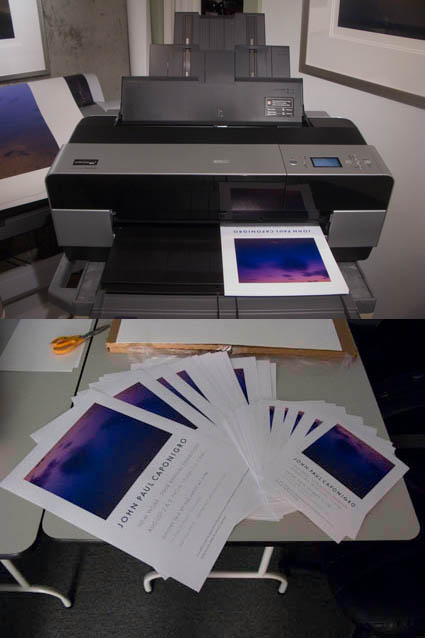 For years I've used Epson printers to print custom promotional materials in limited quantities.
Recently, we just finished printing posters for my Annual Open Studio Exhibit. I post them regionally to promote the exhibit and I sell a limited number of signed posters during the event.
Owning your own inkjet printer is like having your own offset press – only better. While each item takes longer to produce and costs more, the quality is better; resolution, color, and durability are exceptional. While this approach isn't optimal for high volume production (thousands of copies), desktop printers are great for short runs. Because you don't have to produce a large number of units to make a project cost effective (you don't have to invest in the materials to produce a project or the time and space to warehouse a large inventory), inkjet printers make it possible to make certain things that might never have been made before.
Like what? Come and see! And stay tuned for more posts.
What do you use desktop printers to produce? Comment here.
Find out more about my Annual Open Studio Exhibit here.
Find Epson printers here.
Check out the Epson Professional Imaging website here.
Check out my Printing downloads here.
Find out about my digital printing workshop series The Fine Digital Print here.