Jerry Uelsmann – Visions From The Mind's Eye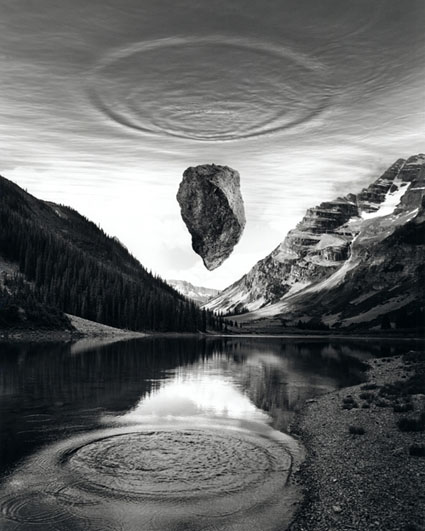 Since the 1950's Jerry Uelsmann has created his surreal photographs entirely in the traditional black-and-white darkroom combining multiple negatives seamlessly into new visual realities, ones that didn't exist before the camera eye at one moment in time but were found in the mind's eye over a lifetime.
Many view his images as a continuance of the surreal photography pioneered by avante-garde photographers in the 1930s. While influenced by this movement, he feels his work has a kinship with a larger visionary sensibility that has risen and fallen cyclically throughout the history of art or which could perhaps better be characterized as the history of consciousness.
Absurd only to the conscious mind, more inquisitive than critical, his work is neither automatic nor entirely random, but rather driven by felt connections as opposed to ones that are intellectually prefigured. Though punctuated with moments of humor and horror, the dominant tendency in his body of work is towards encountering and collecting moments of sublimity.
Freely mixing archetypal images drawn from the natural world and architectural images (with a particular emphasis on museums and libraries both repositories of information, surrogate minds if you will) his work suggests a continual exchange between our insides and outsides. Transference, projection, repression, fixation, conflict; the contents and processes of the soul are laid out on the surfaces of his images for all to see. Occasionally Uelsmann recycles the same images creating multiple compositions from them, revealing additional connections and suggesting the continual internal stirring necessary for psychological metamorphosis.
For me, as much today as when I was a child, long before Photoshop, Jerry Uelsmann was a shining example of possibilities. He used a relatively young medium with a developing tradition in a different way. He created his own visual language to build a very personal visual world one image at a time – and then shared it with us. His is a different kind of work. He does the soul's work through poetry rather than the mind's work through non-fiction.
Read my extended conversation with Jerry Uelsmann here.
Find out more about my influences here.