Edward Burtynsky – Manufactured Landscapes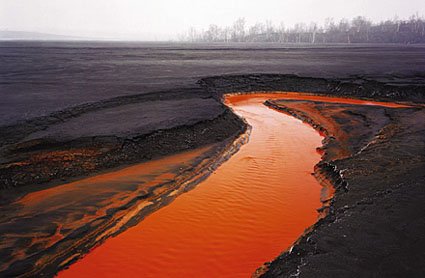 Edward Burtynsky's photographs deftly weave together aspects of a well-researched documentary expose and a beautifully constructed formal artistic statement, but it's unclear which is more dominant, or if they're something else entirely.
Burtynsky let's the things he photographs speak for themselves. Yet he photographs specific kinds of things, related things; oil fields, mines, railways, highways, manufacturing plants, dumps and salvage yards, etc. More than the specific things he photographs it may be these relationships that he's ultimately photographing. And like the effects of the global industrial complex his work has a cumulative effect.
Despite the restrained yet shocking quality of his images, Burtynsky claims not to be critical of industry and presents himself simply as a witness to the monumental changes man makes to land. At first his stance seems simple but the more one considers it the more complex it becomes, almost to the point of becoming enigmatic.
"I'd say, actually, that I've been careful not to frame the work in an activist or political kind of way. That would be too restrictive in terms of how the work can be used in society and how it can be interpreted. I see the work as being a bit like a Rorschach test. If you see an oil field and you see industrial heroism, then perhaps you're some kind of entrepreneur in the oil business and you're thinking, "That's great! That's money being made there!" But, if you're somebody from Greenpeace or whatever, you're going to see it very differently. Humans can really reveal themselves through what they choose to see as the most important or meaningful detail in an image."
It might be easier to draw a clear line between us (the consumers) and them (the manufacturers), but Burtynsky doesn't because there isn't one. Because of his approach, his work is richer, more layered, more nuanced, and perhaps more relevant. Perhaps.
It can be tempting to think of advocacy for a cause as a matter of making a social statement for one thing and against another. But the issues and the approaches needed are much more complex. I appreciate that Burtynsky doesn't take a simplistic cliched antagonistic stance towards the industry. There can be no ecological solution without a related economic solution. I relate to his emphasis of a Rorschach-like quality of seeing, which involves and in the best of cases encourages self-reflection. Individual responsibility/action and connection/interaction is highlighted. Since I was a young man I've felt the standard ways of using photography for environmental advocacy, though they fulfill an important function, were not effective enough on their own and that new approaches are needed. Burtynsky offers one alternative and encourages me to think of others.
View Edward Burtynsky's TED talk here.
Find out more about my influences here.