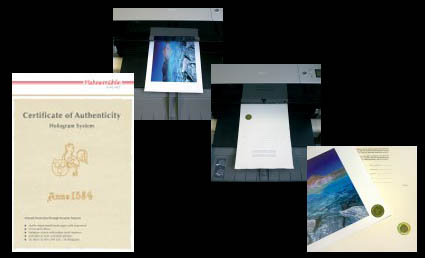 How do you reduce forgery? One way is to issue certificates of authenticity. The artist issues a certificate of authenticity with the artwork. There are many ways to handle this. The artist can give the certificate to the client. The artist can keep the certificate on file for clients. Or, the artist can give one to a client and keep a duplicate. Ultimately a certificate can be forged. But holographic seals can't. The Hahnemühle Certificate of Authenticity (certificates and holographic seals) was designed to help reduce the risk of forgery.
There are many steps you can take to reduce forgery.
1 Share digital files only with trusted sources and post low resolution files to the web
2 Insert copyright information in the file (as a layer, in the file info fields, in metadata).
3 Sign and number all prints(even if issued in an open/unlimited edition). Sign only saleable prints.
4 Keep good records of sales.
5 Note provenance (production history) on the back side of prints.
6 Use certificates and seals.
What other steps do you/could you take to ensure authenticity? Comment here!
Learn this and other tips and techniques in my Fine Digital Print workshops series.