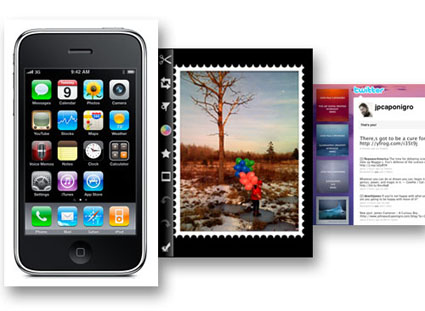 Here's an excerpt from my first post on Huffington Post.
"Photography's constant move towards ease, speed, economy, and ubiquity continues today and it has recently reached a new critical apex.
In the first decade of the 21st century, Apple released the iPhone (2007) and a host of independent applications followed, designed to preview, make, process, enhance, and distribute photographs in seconds. Photography just got easier, faster, less expensive, and more ubiquitious …
When did you discover you can do this?
5-15 seconds     Make and save image
15-30 seconds  Process an image
15-30 seconds  Comment on an image and transmit it to others
15-30 seconds  Find other people's images
15-30 seconds Comment on other people's images or put them to other uses
In about a minute you can make, process, comment on, and distribute an image. It can take you a similar amount of time to do the same with someone else's image.
If you haven't done it yet, try it now. I just did. Doing this will change the way you experience and think about photography …"
Read the full post here.
I share useful links to posts on the history of photography, camera, and camera phone too.
Find iPhone Apps and Accessories I use here.