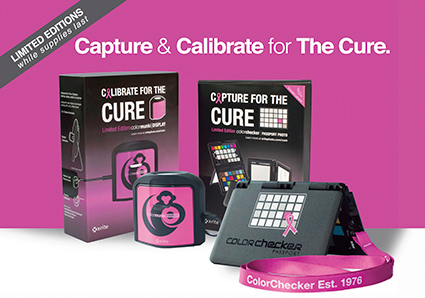 "X-Rite is very excited to announce a limited edition "Pink" promotion!
 .
Limited Time Offer Supporting the Cure
During Breast Cancer Awareness Month, we're supporting the Breast Cancer Research
Foundation (BCRF), the highest rated breast cancer organization in the U.S. We've developed 
two limited edition products with 20% of sales donated to the
BCRF!
 .
Capture for the Cure Limited Edition ColorChecker Passport Photo
For more than 40 years, ColorChecker Targets have delivered accurate and repeatable color 
results in photography and filmmaking with targets right for every shoot.
This 
handsome and convenient ColorChecker Passport has a custom image with The Cure's pink 
ribbon imprinted on the case and a pink lanyard.
 .
Calibrate for the Cure Limited Edition ColorMunki Display
You know ColorMunki Display as advanced display calibration made simple.
This handsome ColorMunki features side panels in the signature pink that is 
recognized around the globe as a symbol of efforts to find the Cure to breast cancer. 
.
Each of these products is limited to 2000 pieces.
.
20% of the proceeds go to the BCRF.
.