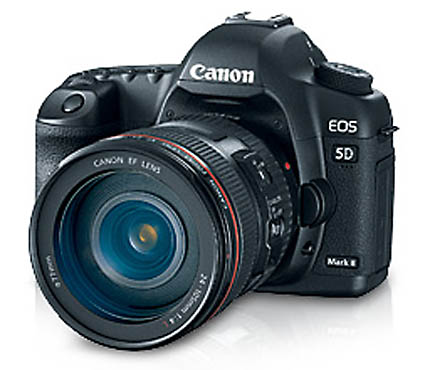 I'm loving my new Canon 5DmkII.
I asked Steven Inglima (Explorers of Light – Professional Products Marketing Division) about the new Canon 5DmkII
JP   We all know the 5DmkII is an awesome 21mp DSLR capable of shooting HD video. Tell us a few other amazing things most people don't know about the 5DmkII.
SI Here are three things.
1 – The 5DmkII has a very wide range of ISO settings and excellent exposure latitude in the Raw data. With the custom function ISO expansion engaged, the camera's settings allow for a low ISO of 50 for extra
exposure control, and up to ISO 25,600 for the ability to shoot in near darkness.
2 – Live view mode offers the ability for very accurate focusing in critical shooting, particularly with specialty lenses like the Tilt-Shift type. When using a the Tilt feature of these lenses, obtaining very accurate focusing
on a plane not parallel to the imaging plane has always been a challenge… until the advent of live view. Now, particularly because of the 5x and 10x magnification possibilities on screen using live view, it's easy to review
perfect focus with the lens' tilt feature engaged, as what's being viewed is the actual feed from the sensor itself.
3 – The LCD monitor on the rear of the 5DmkII is a very generous 920,000 pixels for an excellent review experience.
Here's a quick roundup of Canon 5DmkII features.
21.6 mp – 5616×3477 pixels – 18.72″x12.48″ at 300 ppi
14-bit – 16,383 tones per channel
Highlight Tone Priority – adds one stop to the highlights
DIGIC IV processor for increased speed
3.9 frames per second
16-19 Raw frame bursts
310 continuous JPEG frames
New AF modes – Quick Mode, Lens Mode, Face Detect
Live Mode rear display
920,000 pixel display
ISO 50 – 25,600
Self-cleaning sensor and dust delete function
HD video (1920×1080 pixels) at 30 frames per second
Priced under $3,000
Find out more at Canon.
Find it in my Astore.