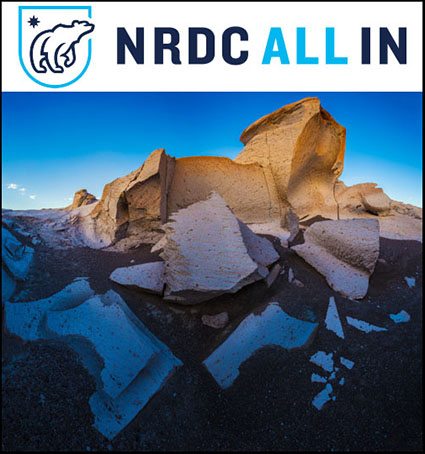 Do you want to efficiently take effective action to protect our environment?
NRDC can help you with their new initiative – All In.
How does it work?
You choose how you'd like to be contacted (email, text, phone), the frequency of the alerts you'd like to receive, and the amount of time you'd like to commit – 1 minute, 10 minute, 1 hour, and deep dive.
They provide clear resources for taking action; some are as simple as signing a petition (I signed 3 today in less than 3 minutes) or calling your representatives at the right times and others are as ambitious as hosting an activist meet up. You choose your level of commitment. They help you be more efficient and effective.
NRDC's All In is simply the best environmental grass roots initiative I've ever seen; it's what I've hoped for decades … and it's coming from the organization at the top of my list to support (and Robert Redford's). (The Natural Resources Defense Council is historically the most effective independent American environmental organization that helps safe guard old and support new good legislation while shutting down bad legislation.)
Join me!
Please take 1 minute now and sign up today!
Better yet, take 2 minutes and take action right now!
Find NRDC's 1 Minute Actions here.
Find NRDC's 10 Minute Actions here.
Find NRDC's 1 Hour Actions here.
Find NRDC's 1 Deep Dive Actions here.