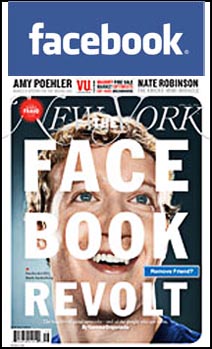 New York magazine currently has a great article on important recent developments on Facebook. Do You Own Facebook? Or Does Facebook Own You? by Vanessa Grigoriadis.
Facebook recently changed usage terms (they expanded their ability to use member contributed content – even after members left Facebook). Members protested and a user group was started to protest; it now has nearly 150,000 members. Facebook responded and reverted to the old terms, temporarily. Facebook then rewrote new terms (broader usage terms, that terminate when members leave Facebook); these new terms are now up for vote by all Facebook members. Facebook will make a public statement April 10. Facebook will put the new document to a vote by all users by April 20.
You can get involved.
If you use Facebook, I recommend you do.
See the Facebook Group – People Against the new Terms of Service (TOS)
Join the Facebook Bill of Rights & Responsibilities here.
If you're an alumni of my seminars and/or workshops you can join my Alumni Facebook Group here.