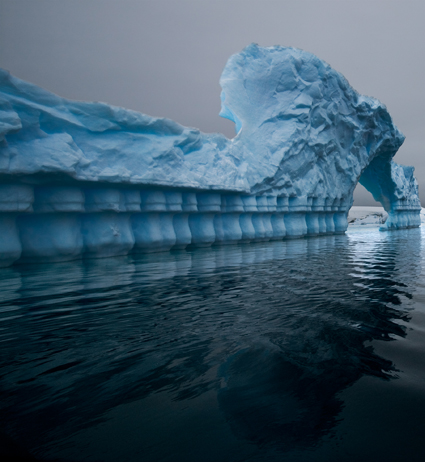 Compare & Contrast Contemplative & Active Modes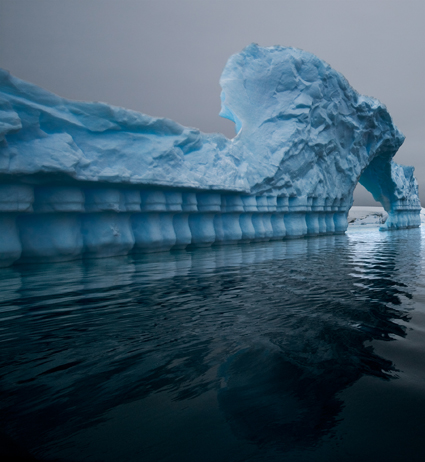 Antarctica LIV, Plenneau Bay 2007
In 2007 I visited Plenneau Bay, Antarctica, which lies just past the famous La Mer Channel. This was the only Zodiac cruise where all the workshop leaders (Michael Reichmann, Jeff Schewe, Stephen Johnson, Bill Atkinson, Ian Lyons, Seth Resnick and I) rode together while Chris Sanderson recorded the event on video for Luminous Landscape. Locked out of this area by ice in 2005, we were delighted to have access to the area many people call 'The Iceberg Graveyard" because the shallow bay frequently traps ice.
We found a floating sculpture garden made of ice in a stunning array of forms. We found frozen sea creatures, both real and mythical. We found Viking ships and space ships. We found pyramids and grottos. One iceberg impressed us above all the others. We first approached it from one side hoping to glide across the pool of water in its center and through an arch on the far side, but we discovered the arch was too shallow to pass through. Double backing, we then approached it from the opposite side. We gasped collectively when we saw what another angle had to offer. The ice had been sculpted in what appeared to be a Grecco-Roman façade complete with a central arch and accompanying rhythmically repeating columns. To this day we still have a hard time believing that this was a naturally occurring form and not man-made. This was one of those unforgettable moments that changes the way you see and think about the world as you become aware of possibilities you hadn't previously dreamed of.
Despite the rich subject matter, it was challenging photographically, as we had hours in an area we could have spent days and consequently moved through it rapidly, which forced us to work like action photographers. At one point in our magical voyage, I teased Michael that he was encouraging very bad habits – shoot first, ask questions later. But I made the best of it knowing that I would never see this again and while I was doing so I realized that this push outside of my contemplative comfort zone would encourage me to acquire skills that would prove useful in other situations. They have been useful in many other unforgettable moments.
Which mode are you most comfortable in?
How can switching between contemplative to active modes help you?
Find out more related images here.
Read more The Stories Behind The Images here.
Learn more about Antarctica here.
Discover my Antarctica workshops here.