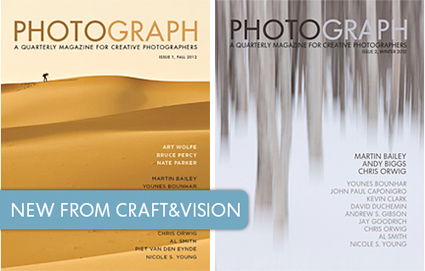 PHOTOGRAPH – The New eMagazine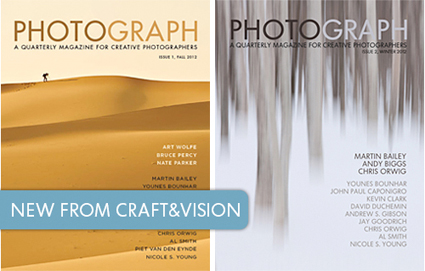 There's a new electronic magazine in town – and I'm delighted to be a part of it.
The 132 pages in Issue One of PHOTOGRAPH, A Digitial Quarterly Magazine for Creative Photographers. features …
Columns include Martin Bailey's The Art of the Print, John Paul Caponigro's Creative Composition, Kevin Clark's The Studio Sketchbook, David Duchemin's Without The Camera, Chris Orwig's Creativity, and Piet van Den Eynde's Lightroom Before + After.
Portfolios by Art Wolfe, Nate Parker, and Bruce Percy are followed by short interviews.
Featured articles by Younes Bounhar, Andrew Gibson, Jay Goodrich, Al Smith, and Nicole Young.
PHOTOGRAPH is available now through Craft & Vision, as a PDF download, for USD$8. A 4-issue subscription for US$24 (or buy 3 issues and get one free). You can subscribe today, or, if you want to do so risk-free, we'll send a short email to everyone that buys Issue One and give you the chance to top-up your subscription with the remaining 3 issues for US$16, as long as you do it before the end of November 2012.
Find out more and subscribe on David Duchemin's blog.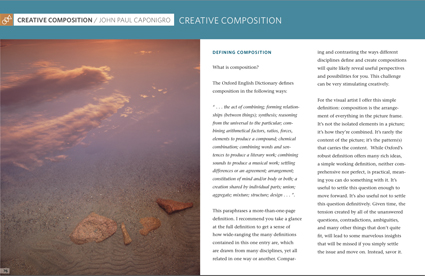 Here's an excerpt from the first article in my column Creative Composition.
Dynamics Not Rules
"When it comes to composition, there are no rules . . . except, perhaps, never say never and always avoid saying always. I recommend you don't ask, "Should I . . .?"; rather, ask "What happens when I . . . ?". But there are principles. Each element has a unique force and contributes to the whole. Each element influences the other, creating a cascading chain of action, reaction, and interaction. These forces are definable and consistent, so you can understand them and apply them repeatedly. An understanding of what these elements are will open up possibilities and create opportunities for you. An understanding of how each element works will help you apply it so that you can improvise given the unique characteristics of a specific situation and your own con- cerns. Versatility with many strategies enables you to be more successful in more varied situations and to make more varied statements. Understanding the principles of visual dynamics will help make your decision making pro- cess more informed, but it won't make choices for you. Awareness is the key. Better awareness brings better choices. Better choices bring better results …"