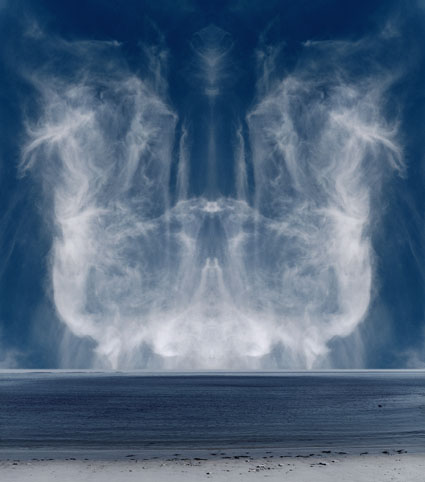 We All See Different Things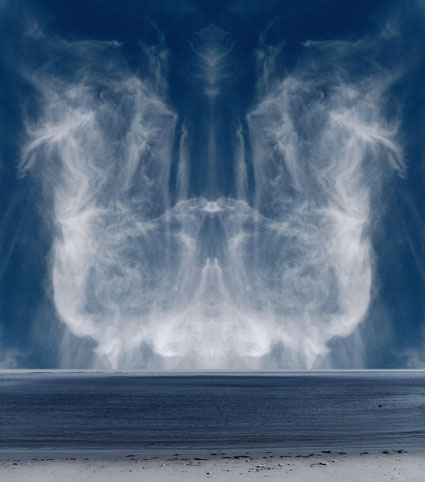 Exhalation I, Mosquito Point, Maine, 1996
I've collected more responses to this image than any other. While they use varied words, most people's associations share some quality of breath and/or a divine presence. However, some people's associations vary wildly.
One night, at an opening, a man reeking of scotch and smoke approached me and said, "I love your satanic icon!" Surprised I looked around the room to see which image he was referring to. He directed me to this one. Challenged by his response, it was very different than my intentions, I held to my practice of not sharing my responses to images unless I feel the viewer can maintain and possibly add to rather than replace their own.
On another occasion, a friend bought a print of this image and surprised his wife with it saying, "Look! Isn't it beautiful?" She replied, "You're not hanging that in here!" "Why not?" he responded. "Can't you see? It's dirty. It's an x-ray of someone sitting on the toilette." It took some negotiation and an extended session of sharing what they saw in the image for him to be able to hang the image, in his office.
The response I treasure most came from a four-year old boy, who stopped in his tracks and caught his breath as he crossed the threshold of the door to the room this image was displayed in. Then he raced to it, waving his arms in the air, "It's a giant sneeze!" Touched by his spontaneous outbursts, I tried to reconcile them with my desire to communicate something general if not specific. I had given the image the working title of Avra, the Sanskrit word for breath. I thought, breath … sneeze … close enough. Everyone in my studio now refers to this image as 'the giant sneeze'.
How can other people's associations inform your work?
How many ways can you stimulate viewer's association in your images?
Read more of The Stories Behind The Images here.