Get Local Information – Part 2 – Ragnar Sigurdsson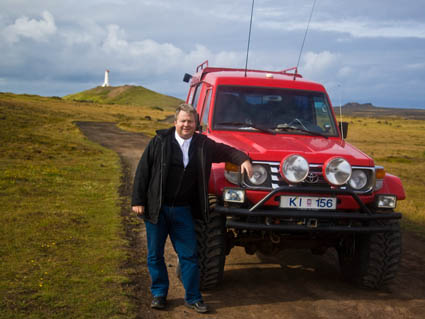 Focus On Nature's creator Einar Erlandson enlisted professional photographer Ragnar Sigurdsson to help guide us on location in Iceland. A native of Iceland, Ragnar Sigurdsson, is a highly successful stock photographer (Getty, Corbis, Jupiter ) specializing in arctic images for over 25 years. "If it's cold I'm there." Where? Siberia, Greenland, Lapland, Canada, Arctic, Antarctic, and of course Iceland. He just got back fromChucotka  Siberia flying in a giant MI8 helicopter.
You should see his ATV. If anyone can get there, Ragnar can. He uses a specially modified military vehicle; 44″ inch tires, heating, stereo, computer holder, GPS, air pump for deflating and inflating his tires, 220W power supply, strobes, and more. Strobes? Yes. One of his signature style is using strobe on in remote locations. (Oh, and his French cognac is excellent.) Life is indeed an adventure made richer by those you share it with.
Find out about Ragnar Sigurdsson's and Arctic Images here.
Find out more about Focus on Nature here.
Get Priority Status for all 2009 workshops now by emailing einar@focusonnature.is.