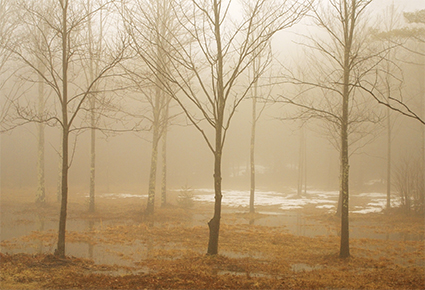 Seek Feedback – The Story Behind The Image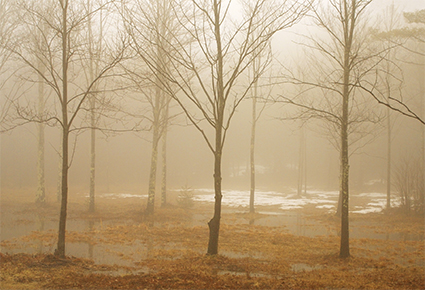 Selva Obscura, Jefferson, Maine, 2002
I had no intention of making this image; I had left my 'real' medium format film camera home and brought a then new digital DSLR, a technology in its infancy at the time, to photograph a new puppy I was bringing home with my family. The drive through the foggy February forests of Maine was beautiful and late in the day as we neared a series of orchards the light turned golden. I stopped with no thought other than to enjoy the moment, making a series of exposures, before continuing on.
While I liked the images I produced that evening, I had no intention of displaying them, until everyone in my studio strongly urged me to do so. Response to these images has continued to be very positive. This one has become one of my top sellers.
This work didn't fit neatly into the ideas I've been developing in my work for decades. It doesn't present a view of nature seemingly untouched by man. It's not a wasteland, either devoid of or filled with water. It's conventionally clear where the life is, in living organisms, drawing attention away from the idea that there might be a spirit in other kinds of things. It didn't fit for this and other reasons. Yet it was somehow connected. These images lay down a challenge.
As I was describing this process to my workshop participants one day remarking, "I don't do trees." one woman remarked, "I don't think you can say that any more." Touche.  The next morning on my way to class as I considered this further, acknowledging that I had always loved orchards, tending them as a boy and now living in another one, and that I deeply appreciated gardens and agricultural areas and sacred sites where man worked in concert with nature, the phrase came to mind, "Perhaps Eden can be restored, if we give it half a chance." It's a thought that runs deep inside all of my work. It's my hope that what I share will kindle a greater sense of wonder for the natural world and inspire people to participant in it creatively and conscientiously.
That was one of a handful of days where the mission behind my life's work became clearer and this image played a central part in that process. It's become an important outlier in my body of work, which I've learned a great deal from.
In response, I didn't decide to go in a new direction. I held to my original course, bringing the work I had already begun to completion – now with a renewed sense of purpose.
What you do with feedback is up to you. I recommend that you seek a lot of feedback from a variety of sources. Know the source of the feedback you receive. Don't forget to give yourself feedback, the most important source of all. Weigh it all carefully, but make the final choice your own. In the end, it's your choice. It's your life's work. It's your life. Make it count.
Questions
What is good enough? How do you know?
What isn't good enough? How do you know?
What is too much?
What is perfectly imperfect?
Find out more about this image here.
View more related images here.
Read more The Stories Behind The Images here.