Free PDF – The Aesthetics Of Photographic Prints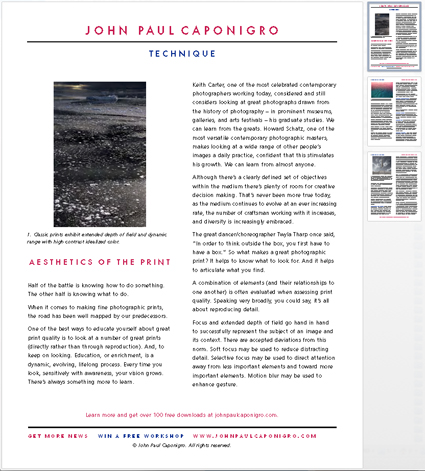 Half of the battle is knowing how to do something. The other half is knowing what to do. When it comes to making fine photographic prints, the road has been well mapped by our predecessors. One of the best ways to educate yourself about great print quality is to look at a number of great prints (directly rather than through reproduction). And, to keep on looking. Education, or enrichment, is a dynamic, evolving, lifelong process. Every time you look, sensitively with awareness, your vision grows. There's always something more to learn.
A combination of elements (and their relationships to one another) is often evaluated when assessing print quality. Speaking very broadly, you could say, it's all about believably reproducing detail. Focus, depth of field, high dynamic range, tonality, color balance, elimination of process artifacts all play a role. So do the selection of appropriate materials, scale, presentation and contextualization. There's a lot more to it than you might think at first and though there are no hard and fast rules there are conventions everyone should be mindful of. There's also a lot of room for creativity.
All of this is expanded and detailed in this free PDF – The Aesthetics Of Print.
Subscribe to Insights enews and download it free.
Learn more in my digital photography and digital printing workshops.