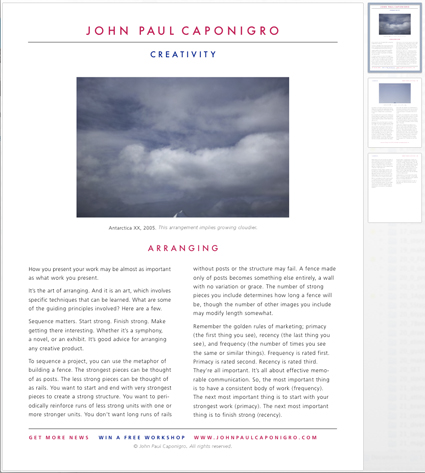 How you present your work may be almost as important as what work you present. It's the art of sequencing or arranging. And it is an art, which involves specific techniques that can be learned. What are some of the guiding principles involved? Here are a few.
Sequence matters. Start strong. Finish strong. Make getting there interesting. Whether it's a symphony, a novel, or an exhibit. It's good advice for arranging any creative product. To sequence a project, you can use the metaphor of building a fence. The strongest pieces can be thought of as posts. The less strong pieces can be thought of as rails. You want to start and end with very strongest pieces to create a strong structure. You want to periodically reinforce runs of less strong units with one or more stronger units. You don't want long runs of rails without posts or the structure may fail. A fence made only of posts becomes something else entirely, a wall with no variation or grace. The number of strong pieces you include determines how long a fence will be, though the number of other images you include may modify length somewhat.
Remember the golden rules of marketing; primacy (the first thing you see), recency (the last thing you see ), and frequency (the number of times you see the same or similar things). Frequency is rated first. Primacy is rated second. Recency is rated third. They're all important. It's all about effective memorable communication. So, the most important thing is to have a consistent body of work (frequency). The next most important thing is to start with your strongest work (primacy). The next most important thing is to finish strong (recency).
You can use classic story telling devices (like structure, proximity, pace, length, etc) to strengthen any image presentation and bring to light subtext in and connections between images that give work added depth and dimension.
In short, arranging matters.
Learn more about the art of Arranging in this free PDF.
Subscribe to Insights enews and download it free.
Learn more in my digital photography and digital printing workshops.