The Essential Collection Of Quotes By Photographers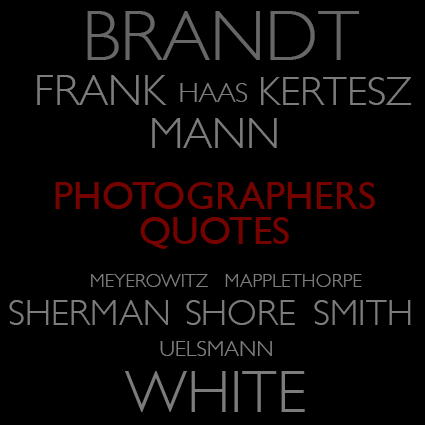 We can all learn a lot from the photographers who make the classic photographs.
Here's a list of links to collections of my favorite quotes by master photographers.
You'll find them inspiring!
Sam Abell
Berenice Abbott
Ansel Adams
Robert Adams
Diane Arbus
Richard Avedon
Ruth Bernhard
Bill Brandt
Harry Callahan
Keith Carter
Henri Cartier-Bresson
Chuck Close
Wynn Bullock
Edward Burtynsky
John Paul Caponigro
Paul Caponigro
Harold Edgerton
William Eggleston
Alfred Eisendstadt
Elliot Erwitt
Walker Evans
Andreas Feininger
Robert Frank
Lee Friedlander
Emmet Gowin
Ernst Haas
Michael Kenna
Andre Kertesz
Josef Koudelka
David La Chapelle
Jacques-Henri Lartigue
Annie Liebovitz
Jay Maisel
Sally Mann
Robert Mapplethorpe
Joel Meyerowitz
Richard Misrach
James Nachtwey
Irving Penn
John Pfahl
Eliot Porter
Sebastiao Salgado
John Sexton
Cindy Sherman
Stephen Shore
Aaron Siskind
W Eugene Smith
Fredrick Sommer
Edward Steichen
Alfred Steiglitz
Paul Strand
Hiroshi Sugimoto
Joyce Tenneson
George Tice
Jerry Uelsmann
Andy Warhol
Edward Weston
Weegee
Minor White
Gary Winogrand
–
Read new additions to this collection here.
View The Essential Collection Of Documentaries On Photographers Online here.
Read Photographer's Favorite Quotes here.