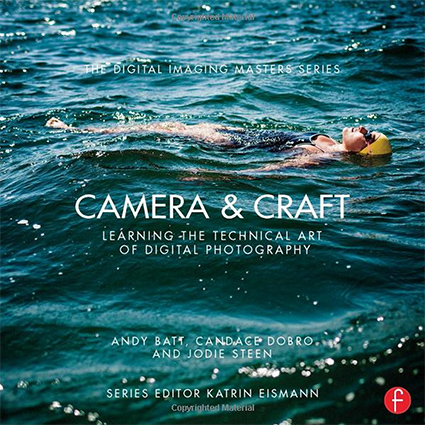 Congratulations! Alumni Andy Batt's new book Camera & Craft was voted one of the best photo books of 2014 by photo.net! (Yes. Many of my alumni are or become working pros.)
"An instructional photography book at heart, Camera & Craft is refreshingly conversational. It does dive into the nitty gritty of professional workflow, but it also throws working photographers from a variety of disciplines into the mix to share their stories and working preferences so that you can build the foundation to move your photographic work to the next level. Once you understand and harness the power of the technical tools at your disposal — combining your camera with your craft— you will become a better artist too."
Here's what Andy shared about his new book.
"As a way of going about this backwards, let me start with something that happened at the end. After a year of writing the book Camera & Craft, I went to Argentina with JP and Seth. This was a gift from my wife and business partner Therese. It was a perfect gift—it was an immersion in getting my head back together, and finding time for my own photography. It was an amazing time, and the work I created there is still influencing me and moving me forward. This much needed photographic adventure came right on the heels of delivering my final draft of Camera & Craft to my co-author Candace Dobro so she could do an amazing job of polishing my words and making sure that our book was readable and grammatically correct.
The book was a project that came directly from my teaching the online Digital Masters of Photography program for SVA. My experiences there gave me a good idea of an audience for this book: the inspired amateur and the dedicated student of photography. I wanted to craft a book that was conversational and technical, and meant to be read like a class, from front to back. To be blunt: these days anyone can take a good picture. Smart cameras, good automatic software, Instagram and iPhones—all of these enable anybody to call themselves a photographer. So what qualities drive the rest of us? What is it that distinguishes the professional and the fine art photographer from everyone else? One of the answers to that question—in my opinion—is mastery over the tools you use. Whether it's cameras, lenses or software, I believe that understanding how they work leads to mastery, and mastery opens doors to creativity. My hope is that emerging photographers will learn to put their cameras on manual and take charge of their photography, and become better artists. " – Andy Batt
Get the book here.
Find out more about Andy Batt here.
Connect with Andy on Facebook and Twitter.
Read more Alumni Success Stories here.