Check Out PHOTOGRAPH Issue 11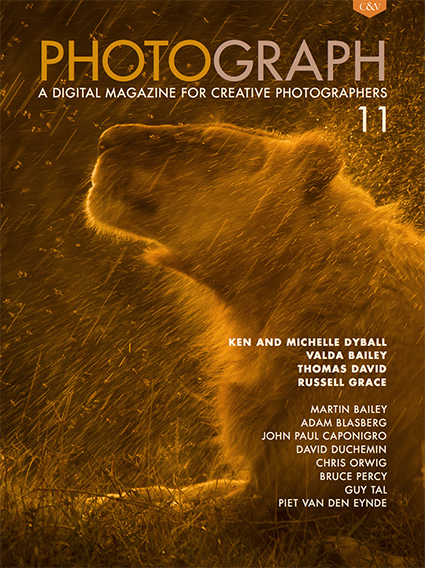 "Issue 11 of PHOTOGRAPH magazine celebrates the power of movement, from the strength and elegance of African beasts, to heading across town via public transportation, to the muscular physicality of dancers, to traveling across the country and documenting it all in black and white.
Portfolios and interviews feature the work of Ken and Michelle Dyball, who open up about how they find life—and wildlife—on the savannahs of the Maasai Mara; impressionistic photographer Valda Bailey, who found unexpected grace and beauty while riding the No. 8 bus; Thomas David, who took a concept of dust and dance and created a powerful series; and Russell Grace, who—in trying to impress a girl—inadvertently switched to infrared photography, with beautiful results.
Regular contributors John Paul Caponigro, Bruce Percy, Guy Tal, Chris Orwig, Martin Bailey, Piet Van den Eynde, Adam Blasberg and I discuss seizing time, the strength of numbers, the starkness of nature, creative flow (and getting unstuck), the art and science of photography, depth of field, telling the story of your subject through lighting, and how to create a photo panel."
This installment in my column Creative Composition explores the power of Number.
Get 20% Off through Tuesday Feb 3.