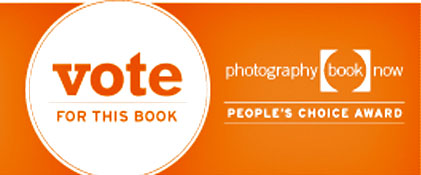 Blurb received over 2,000 entries for their recent Photography.Book.Now contest. Winners will be announced September 10th.
They've just added an additional award – the People's Choice Award – so you have a chance to let the world know who you think is the best of the best. Voting is open through September 10th.
Here's how it works.
You can vote for one book, and one book only. Just go to the Photography.Book.Now bookstore to see all the work, then click on the voting button under your favorite book. (The button's big and orange, should be pretty easy to spot.) Want to stack the deck for your top choice? We have some tools to make it easy for you to spread the word. You can download an image to forward along in emails, or grab a People's Choice voting badge for your website or blog by clicking here to save the file. Once you cast your vote, you can also send a note directly from the bookstore to bring your people right back to your top choice.
The winner of the People's Choice Award will be announced at the Awards Ceremony in San
Francisco on September 19th. Pick up your tickets here. The prize? They're keeping that one a secret. Who doesn't love a little surprise?
Check out my book entry Antarctica here.
If you like it, I'd appreciate your vote!