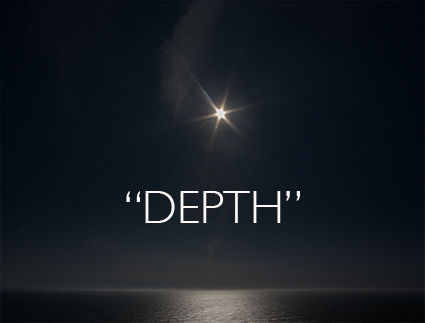 Enjoy this collection of quotes on Depth.
"It is not length of life, but depth of life." – Ralph Waldo Emerson
"The length of your education is less important than its breadth, and the length of your life is less important than its depth" – Marilyn vos Savant
"You can't do anything about the length of your life, but you can do something about its width and depth" – Henry Louis Mencken
"What matters is not the idea a man holds, but the depth at which he holds it." – Ezra Pound
"Like the sea itself, the unconscious yields an endless and self-replenishing abundance of creatures, a wealth beyond our fathoming." – C.G. Jung
"The greatest explorer on this earth never takes voyages as long as those of the man who descends to the depth of his heart." – Julien Green
"It's our challenges and obstacles that give us layers of depth and make us interesting. Are they fun when they happen? No. But they are what make us unique. And that's what I know for sure… I think." – Ellen DeGeneres

"The only way to do something in depth is to work hard." – Miuccia Prada
"To achieve some depth in your field requires a lot of sacrifices." – Mikhail Baryshnikov
"There's nothing like living a long time to create a depth and soulfulness in your music." – Bonnie Raitt
"The depth and strength of a human character are defined by its moral reserves. People reveal themselves completely only when they are thrown out of the customary conditions of their life, for only then do they have to fall back on their reserves." – Leonardo da Vinci
"The moment you have in your heart this extraordinary thing called love and feel the depth, the delight, the ecstasy of it, you will discover that for you the world is transformed." – Jiddu Krishnamurti
"How do I love thee? Let me count the ways./ I love thee to the depth and breadth and height / My soul can reach, when feeling out of sight / For the ends of Being and ideal Grace." – Elizabeth Barrett Browning
"Success comes from taking the initiative and following up… persisting… eloquently expressing the depth of your love. What simple action could you take today to produce a new momentum toward success in your life?" – Tony Robbins
"People are very fond of giving away what they need most themselves. It is what I call the depth of generosity." – Oscar Wilde
"Depth of friendship does not depend on length of acquaintance." – Rabindranath Tagore
"The most wonderful of all things in life, I believe, is the discovery of another human being with whom one's relationship has a growing depth, beauty, and joy as the years increase. This inner progressiveness of love between two human beings is a most marvelous thing; it cannot be found by looking for it or by passionately wishing for it. It is a sort of divine accident, and the most wonderful of all things in life." – Hugh Walpole, Sr.
"The human spirit is not dead. It lives on in secret… It has come to be believed that compassion, in which all ethics must take root, can only attain its full breadth and depth if it embraces all living creatures and does not limit itself to mankind." – Albert Schweitzer
"One's appearance bespeaks dignity corresponding to the depth of his character. One's concentrated effort, serene attitude, taciturn air, courteous disposition, thoroughly polite bearing, gritted teeth with a piercing look – each of these reveals dignity. Such outward appearance, in short, comes from constant attentiveness and seriousness." – Yamamoto Tsunetomo
"It is easier to perceive error than to find truth, for the former lies on the surface and is easily seen, while the latter lies in the depth, where few are willing to search for it." – Johann Wolfgang von Goethe
"Truth is a gem that is found at a great depth; whilst on the surface of this world, all things are weighed by the false scale of custom." – Lord Byron
"As a rule, I am very careful to be shallow and conventional where depth and originality are wasted." – Lucy Maud Montgomery
"Depth must be hidden. Where? On the surface." – Hugo von Hofmannsthal
"A man only becomes wise when he begins to calculate the approximate depth of his ignorance." – Gian Carlo Menotti
"The depth of darkness to which you can descend and still live is an exact measure of the height to which you can aspire to reach." – Pliny the Elder
"Conflicts may be the sources of defeat, lost life and a limitation of our potentiality but they may also lead to greater depth of living and the birth of more far-reaching unities, which flourish in the tensions that engender them." – Karl Jaspers
"You'll come to learn a great deal if you study the Insignificant in depth." – Odysseus Elytis
"It came into him life, it went out from him truth. It came to him short-lived actions; it went from him poetry. It was a dead fact; now, it is quick thought. It can stand, and it can go. It now endures, it now flies, it now inspires. Precisely in proportion to the depth of mind from which it issued, so high does it soar, so long does it live." – Ralph Waldo Emerson
"A little philosophy inclineth man's mind to atheism, but depth in philosophy bringeth men's minds about to religion." – Francis Bacon, Sr.
Read more in The Essential Collection of Creativity Quotes.