9 Great Books On Haiku Poetry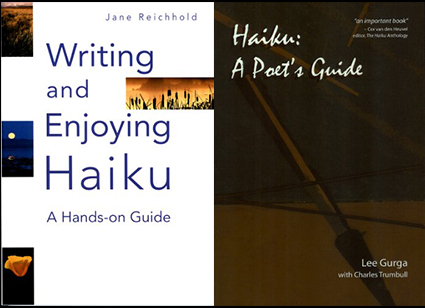 Looking for books on great haiku poetry?
Here's a list of books on haiku that I recommend.
Six on writing and enjoying haiku.
1   Writing and Enjoying Haiku: A Hands-on Guide by Jane Reichhold
2   Haiku: A Poet's Guide by Lee Gurga
3   The Haiku Handbook: How to Write, Share, and Teach Haiku by William J. Higginson
4   The Haiku Seasons by William J. Higginson
5   How to Haiku: A Writer's Guide to Haiku and Related Forms by Bruce Ross
6   The Heart of Haiku by Jane Hirshfield
Three outstanding collections of haiku; two historic and one contemporary.
7   The Sound of Water: Haiku by Basho, Buson, Issa, and Other Poets translated by Sam Hamill
8   The Classic Tradition of Haiku: An Anthology by Faubion Bowers
9   The Haiku Anthology edited by Cor van den Heuvel
Find the books I recommend on haiku here.