Three Simple Lines / Natalie Goldberg & John Paul Caponigro
Tuesday, May 24 – 6:00 to 7:00 pm MT – Online At The Santa Fe Workshops
Creativity Continues at Santa Fe Workshops when author Natalie Goldberg joins John Paul Caponigro for an intriguing conversation about how words make images and images make words. Natalie sets the tone and the stage for the evening by reading from her newest book, Three Simple Lines: A Writer's Pilgrimage Into the Heart and Homeland of Haiku. Then John Paul and Natalie discuss the larger themes of how writing and perception are deeply intertwined and how writing can be both inspiring and useful for visual artists. The program finishes with a lively question and answer session — first between Natalie and John Paul and then open to all participants.
Natalie Goldberg, author of 16 books, including the bestselling Writing Down The Bones, a delightfully companionable exploration of writing as a practice of mindfulness. In Three Simple Lines, she highlights the history of haiku poetry, dating back to the seventeenth century; shows why masters such as Basho and Issa are so revered; discovers Chiyo-ni, an important woman haiku master; and provides insight into writing and reading haiku. A fellow seeker who travels to Japan to explore the birthplace of haiku, Goldberg revels in everything she encounters, including food and family, painting and fashion, frogs, and ponds. She also experiences and allows readers to share in the spontaneous and profound moments of enlightenment and awakening that haiku promises.
below – a comparison between Basho's most famous haiku in Japanese and English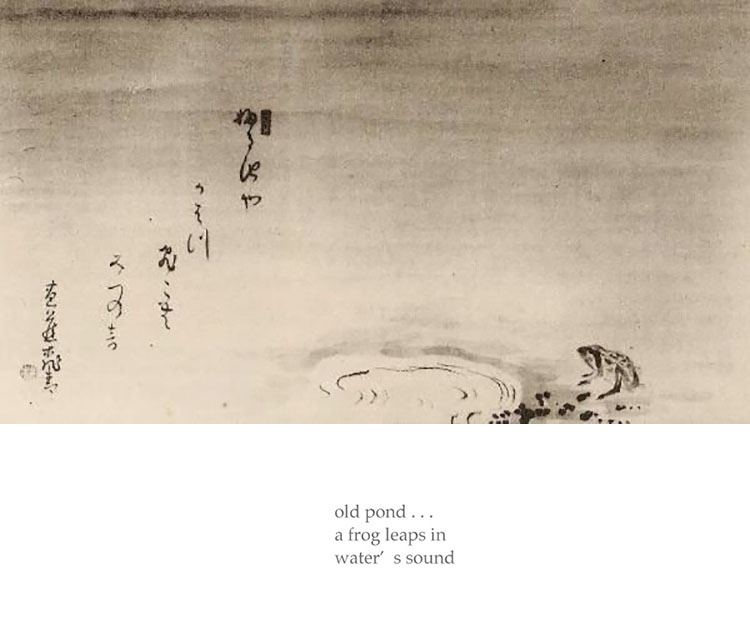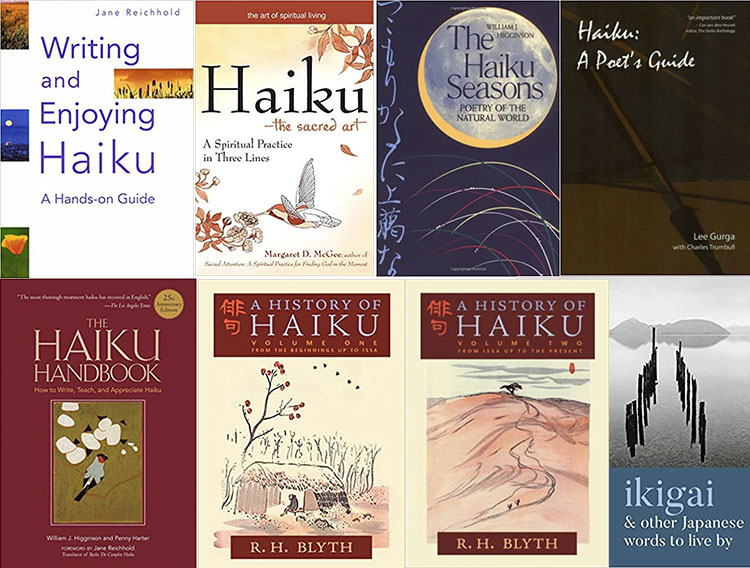 Recommended Reading On Haiku
Writing & Enjoying Haiku – Jane Reichold
If you only read one book on haiku, start here.
This is the book I occassionally give to my students.
Haiku – The Sacred Art – Margaret D McGee
An accessible western perspective on haiku as a spiritual practice
The Haiku Seasons – William R Higginson
Focuses on the importance of seasons in haiku
Written by one of the west's great haiku scholars
Haiku: A Poet's Guide
Paints a broad picture of the diverse practices within haiku
A classic by one of the west's great scholars
The Haiku Handbook – William R Higginson and Penny Harter
A concise history
A classic by one of the west's great scholars
A History Of Haiku / Vol 1 – R H Blyth
A History Of Haiku / Vol 2 – R H Blyth
An expansive history
A classic by one of the west's great scholars
Ikigai And Other Japanese Words To Live By
Details Japanese words/concepts important to their culture's philosophy/aesthetic
Not a book on haiku but includes haiku
Includes 28 photographs by Michael Kenna