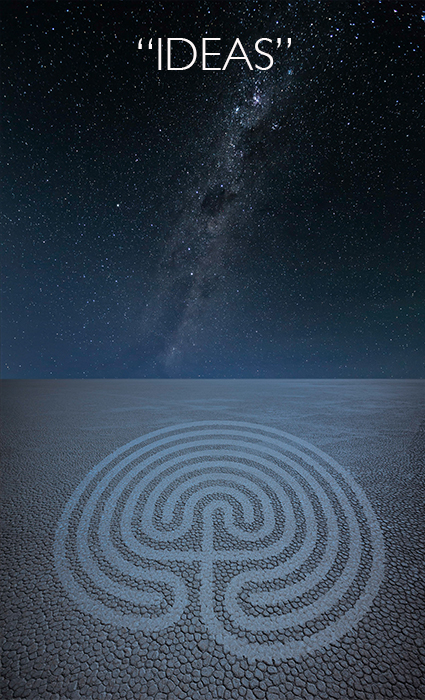 Enjoy this collection of quotes on Ideas.
"Everything begins with an idea." – Earl Nightingale
"Ideas can be life-changing. Sometimes all you need to open the door is just one more good idea." – Jim Rohn
"To get a great idea, come up with lots of them." — Thomas Edison
"The way to get good ideas is to get lots of ideas and throw the bad ones away." – Linus Pauling
"Ideas are like rabbits. You get a couple and learn how to handle them, and pretty soon you have a dozen." – John Steinbeck
"It is better to have enough ideas for some of them to be wrong, than to be always right by having no ideas at all." — Edward de Bono
"No idea is so outlandish that it should not be considered." – Winston Churchill
"Daring ideas are like chessmen moved forward: they may be beaten, but they may start a winning game." – Johann Wolfgang von Goethe
"New scientific ideas never spring from a communal body, however organized, but rather from the head of an individually inspired researcher who struggles with his problems in lonely thought and unites all his thought on one single point which is his whole world for the moment." ― Max Planck
"You shouldn't be a prisoner of your own ideas." – Sol LeWitt
"The difficulty lies not so much in developing new ideas as in escaping from old ones." — John Maynard Keynes
"It's easy to come up with new ideas; the hard part is letting go of what worked for you two years ago, but will soon be out-of-date." – Roger von Oech
"If at first the idea is not absurd, then there is no hope for it." ― Albert Einstein
"Almost all really new ideas have a certain aspect of foolishness when they are just produced." – Alfred North Whitehead
"A new idea is first condemned as ridiculous and then dismissed as trivial, until finally, it becomes what everybody knows." – William James
"I can't understand why people are frightened of new ideas. I'm frightened of the old ones." ― John Cage
"The air is full of ideas. They are knocking you in the head all the time. You only have to know what you want, then forget it, and go about your business. Suddenly, the idea will come through. It was there all the time." – Henry Ford
"When I am ….. completely myself, entirely alone… or during the night when I cannot sleep, it is on such occasions that my ideas flow best and most abundantly. Whence and how these ideas come I know not nor can I force them." ― Wolfgang Amadeus Mozart
"When the ideas are coming, I don't stop until the ideas stop because that train doesn't come along all the time." – Dr. Dre
"There are a thousand thoughts lying within a man that he does not know till he takes up the pen to write." ― William Makepeace Thackeray
"My ideas usually come not at my desk writing but in the midst of living." – Anais Nin
"Labor gives birth to ideas." – Jim Rohn
"I know quite certainly that I myself have no special talent. Curiosity, obsession and dogged endurance, combined with self-criticism, have brought me to my ideas." – Albert Einstein
"Ideas are the seeds, not the substance, of creativity." — Michael Schrage
"If you have an apple and I have an apple and we exchange these apples then you and I will still each have one apple. But if you have an idea and I have an idea and we exchange these ideas, then each of us will have two ideas." ― George Bernard Shaw
"The ideas I stand for are not mine. I borrowed them from Socrates. I swiped them from Chesterfield. I stole them from Jesus. And I put them in a book. If you don't like their rules, whose would you use?" – Dale Carnegie
"Ideas won't keep. Something must be done about them."– Alfred North Whitehead
"You can have brilliant ideas, but if you can't get them across, your ideas won't get you anywhere." – Lee Iacocca
"A mediocre idea that generates enthusiasm will go further than a great idea that inspires no one." – Mary Kay Ash
"But the truth is, it's not the idea, it's never the idea, it's always what you do with it."― Neil Gaiman
"You do things when the opportunities come along. I've had periods in my life when I've had a bundle of ideas come along, and I've had long dry spells. If I get an idea next week, I'll do something. If not, I won't do a damn thing." – Warren Buffet
"Money never starts an idea. It is always the idea that starts the money." – Owen Laughlin
"After years of telling corporate citizens to 'trust the system', many companies must relearn instead to trust their people and encourage them to use neglected creative capacities in order to tap the most potent economic stimulus of all: idea power." – Rosabeth Moss Kanter
"Capital isn't that important in business. Experience isn't that important. You can get both of these things. What is important is ideas." – Harvey Firestone
"Our best ideas come from clerks and stockboys." – Sam Walton
"To turn really interesting ideas and fledgling technologies into a company that can continue to innovate for years, requires a lot of discipline." – Steve Jobs
"Enthusiasm is the yeast that makes your hopes shine to the stars. Enthusiasm is the sparkle in your eyes, the swing in your gait. The grip of your hand, the irresistible surge of will and energy to execute your ideas." – Henry Ford
"If you are possessed by an idea, you find it expressed everywhere, you even smell it." – Thomas Mann
"Everyone is in love with their own ideas." – Carl Jung
"If you do not express your own original ideas, if you do not listen to your own being, you will have betrayed yourself." – Rollo May
"One's mind, once stretched by a new idea, never regains its original dimensions." – Oliver Wendell Holmes
"The test of a first-rate intelligence is the ability to hold two opposed ideas in mind at the same time and still retain the ability to function." – F. Scott Fitzgerald
"A new idea is delicate. It can be killed by a sneer or a yawn; it can be stabbed to death by a quip and worried to death by a frown on the right man's brow." – Ovid
"If you want to kill any idea in the world, get a committee working on it." – Charles Kettering
"A war of ideas can no more be won without books than a naval war can be won without ships. Books, like ships, have the toughest armor, the longest cruising range, and mount the most powerful guns." ― Franklin D. Roosevelt
"A man may die, nations may rise and fall, but an idea lives on. Ideas have endurance without death." ― John F. Kennedy
"You can kill a man, but you can't kill an idea." – Medgar Evers
"You have to have an idea of what you are going to do, but it should be a vague idea." – Pablo Picasso
"Nearly every man who develops an idea works it up to the point where it looks impossible, and then he gets discouraged. That's not the place to become discouraged." – Thomas Edison
"With ideas it is like with dizzy heights you climb: At first they cause you discomfort and you are anxious to get down, distrustful of your own powers; but soon the remoteness of the turmoil of life and the inspiring influence of the altitude calm your blood; your step gets firm and sure and you begin to look – for dizzier heights." – Nikola Tesla
"New ideas pass through three periods: 1) It can't be done; 2) It probably can be done, but it's not worth doing; 3) I knew it was a good idea all along!" – Arthur C. Clarke
"An idea, like a ghost, must be spoken to a little before it will explain itself." – Charles Dickens
"I begin with an idea and then it becomes something else." – Pablo Picasso
"An idea isn't responsible for the people who believe it." – Don Marquis
"An idea is salvation by imagination." – Frank Lloyd Wright
"No matter what people tell you, words and ideas can change the world." – Robin Williams
"There is one thing stronger than all the armies in the world, and that is an idea whose time has come."– Victor Hugo
Read more in The Essential Collection Of Creativity Quotes.