DPD Bucket List Destinations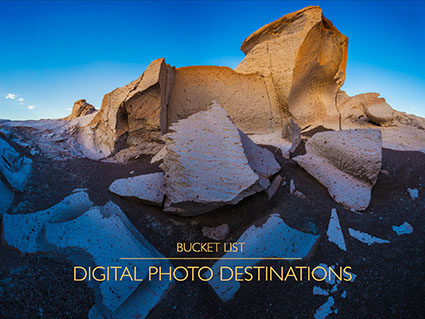 Sign up for our early alert list and get this PDF free.
Download DPD's Bucket List here.
When Seth Resnick and I started Digital Photo Destinations workshops we picked locations from our bucket lists – and we still do. We go to the places we feel our lives would be incomplete if we didn't visit them.
What's on our bucket list? Climb glaciers and into ice caves above Iceland's Jokulsarlon; fly helicopters over 1000 foot high coral dunes in Namibia's Sossusvlei, ride camels in Morocco's Erg Chagaga; sail through the world's largest ice fiord in Greenland's Illulisat; glide in zodiacs through Antarctica's "Iceberg Graveyard"; drink tea along China's Li River surrounded by its misty mountains; walk through Shinto garden shrines in Japan's Kyoto (both in spring bloom and fall color). These are just a few of the things on our bucket list.
What's on your bucket list? If you don't have a bucket list use ours to start one; you'll do more of the things you want to do. If you do have a bucket list, you may decide to add an item or two you see on our bucket list. And, if you find a destination that's already on your bucket list here, we hope you'll join us.
Find out about our next Digital Photo Destinations adventures here.
See more in our contact sheets from previous adventures here.