41 Great Quotes On Context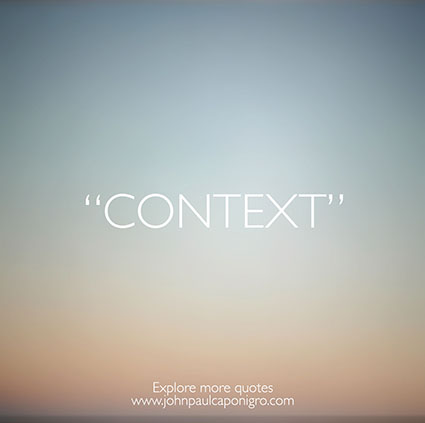 Enjoy this collection of quotes on Context.
"For me context is the key – from that comes the understanding of everything." – Kenneth Noland
"Making mental connections is our most crucial learning tool, the essence of human intelligence; to forge links; to go beyond the given; to see patterns, relationships, context" – Marilyn Ferguson
"Critics have a responsibility to put things in a cultural and sociological or political context. That is important." – Annette Bening
"What we have to do is put this in a coherent form for them at the end of the day, and on the big events, give them the kind of context that they deserve." – Tom Brokaw
"I do not fear truth. I welcome it. But I wish all of my facts to be in their proper context." – Gordon B. Hinckley
"Disinformation is most effective in a very narrow context." – Frank Snepp
"I have suffered a great deal from writers who have quoted this or that sentence of mine either out of its context or in juxtaposition to some incongruous matter which quite distorted my meaning , or destroyed it altogether." – Alfred North Whitehead
"No word is absolutely wrong or dirty or insulting. It all depends upon context and intention." – Janet Jackson
"If I'd written all the truth I knew for the past ten years, about 600 people – including me – would be rotting in prison cells from Rio to Seattle today. Absolute truth is a very rare and dangerous commodity in the context of professional journalism." – Hunter S. Thompson
"To know an object is to lead to it through a context which the world provides." – William James
"Always design a thing by considering it in its next larger context – a chair in a room, a room in a house, a house in an environment, an environment in a city plan." – Eliel Saarinen
"Having been an educator for so many years I know that all a good teacher can do is set a context, raise questions or enter into a kind of a dialogic relationship with their students." – Godfrey Reggio
"In archaeology, context is everything. Objects allow us to reconstruct the past. Taking artifacts from a temple or an ancient private house is like emptying out a time capsule." – Sarah Parcak
"Widespread state control over art and culture has left no room for freedom of expression in the country. For more than 60 years, anyone with a dissenting opinion has been suppressed. Chinese art is merely a product: it avoids any meaningful engagement. There is no larger context. Its only purpose is to charm viewers with its ambiguity." – Ai Weiwei
"When a company owns one precise thought in the consumer's mind, it sets the context for everything and there should be no distinction between brand, product, service and experience." – Maurice Saatchi
"There are certain sorts of jokes which have only to do with the substitution of the unexpected word in a familiar context. If you translated something into French and then had it translated back into English by somebody who didn't know the original, you'd lose what was funny." – Tom Stoppard
"Art needs to be socialised, and you need a lot of context to understand that, and that doesn't mean having read a few art history books." – Peter M. Brant
"When you put the subjectivity of the art together with the context of the science, you have this very powerful conjunction of opposites and together they are greater than either one could ever be." – James Balog
"Think you always have to find where the boundary is in relation to the context in order to be able to kind of articulate how you want the space to interact with the viewer." – Richard Serra
"I am not a performer but occasionally I deliberately work in a public context. Some sculptures need the movement of people around them to work." – Andy Goldsworthy
"If you're a baker, making bread, you're a baker. If you make the best bread in the world, you're not an artist, but if you bake the bread in the gallery, you're an artist. So the context makes the difference." – Marina Abramovic
"Priority is a function of context." – Stephen R. Covey
"Children learn and remember at least as much from the context of the classroom as from the content of the coursework." – Lawrence Kutner
"The hard truth is that what may be acceptable in elite culture may not be acceptable in mass culture, that tastes which pose only innocent ethical issues as the property of a minority become corrupting when they become more established. Taste is context, and the context has changed." – Susan Sontag
"Meals make the society, hold the fabric together in lots of ways that were charming and interesting and intoxicating to me. The perfect meal, or the best meals, occur in a context that frequently has very little to do with the food itself." – Anthony Bourdain
"Context and memory play powerful roles in all the truly great meals in one's life." – Anthony Bourdain
"The field of the novel is very rich. If you're a composer, you're well aware of the history of composition, and you are trying to make your music part of that history. You're not ahistorical. In the same way, I think, if you write now, you are writing in the historical context of what the novel has been and what possibilities it has revealed." – Salman Rushdie
"Molly Shannon and I used to always talk about that we really felt strongly that we were comedic actors, that we weren't comedians. You just played things real and the comedy came out of the context." – Will Ferrell
"Distinctly American poetry is usually written in the context of one's geographic landscape, sometimes out of one's cultural myths, and often with reference to gender and race or ethnic origins." – Diane Wakoski
"As a jazz musician, you have individual power to create the sound. You also have a responsibility to function in the context of other people who have that power also." – Wynton Marsalis
"Before recording technology existed, you could not separate music from its social context." – David Byrne
"There are certain sounds that I've found work well in nearly any context. Their function is not so much musical as spatial: they define the edges of the territory of the music." – Brian Eno
"I try to see everything I do. It's a good learning tool for me. You kind of remember what you were going for when you were shooting it, and then see how it comes across in the context of what comes before and after it." – Jason Bateman
"Taken out of context I must seem so strange." – Ani Difranco
"I think you learn more about yourself in the context of a relationship than you can outside of it." – Pink
"There is something really horrific for any human being who feels he is being consumed by other people. I'm talking about a writer's critics, who don't address what you've written, but want to probe into your existence and magnify the trivia of your life without any sense of humor, without any sense of context." – Wole Soyinka
"You know, I think I'm more of a micro-person, so to me, the context and the framework of trying to do what you love and feel passionate about, in supporting your family in that way, is the most important thing to me." – Joan Cusack
"The world isn't fast-paced, it's frenetic. People have to be managers of themselves. Time has been managing itself for 15 billion years; we have to manage ourselves in the context of time." – Tony Buzan
"Any conversation which does not include the context of the journey of the heart is by definition untrue to who we are as human beings." – Marianne Williamson
"Nothing worth doing is completed in our lifetime; therefore we must be saved by hope. Nothing true or beautiful makes complete sense in any immediate context of history; therefore we must be saved by faith. Nothing we do, however virtuous, can be accomplished alone; therefore, we are saved by love." – Reinhold Niebuhr
"I walk every day, and I look at the mountains and the fields and the small city, and I say: 'Oh my God, what a blessing.' Then you realise it's important to put it in a context beyond this woman, this man, this city, this country, this universe." – Paulo Coelho
Explore The Essential Collection Of Creativity Quotes here.
View The Essential Collection Of Creativity Videos here
Discover more quotes in my social networks.