David DuChemin's New Mentor Class The Compelling Frame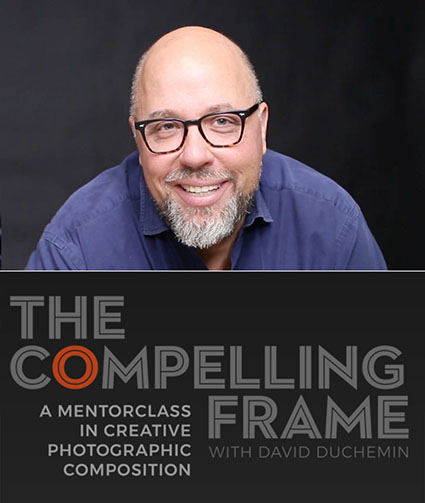 David DuChemin recommends, "If you want sharper photographs, buy a new lens. If you want more compelling photographs, start here." So do I. If you love David's books (including Within The Frame and The Soul Of The Camera), like I do – his new online class The Compelling Frame is for you.
Haven't been able to take one of his Mentor Series Workshops? The Compelling Frame is a great way to get started while you're waiting.
"The Compelling Frame is a mentor class about making more compelling photographs by being more intentional about your compositions." (David DuChemin) As with everything David does, it's vision driven. There are no rules here. David deftly points out that the elements of composition and the forces they set in motion are nothing without purpose – and in your photographs that purpose is yours to choose. Put another way, without knowing what you want to do, you're unlikely to know how to do it. David puts heart and soul into everything he does; that's what makes him so great. And he encourages you to do the same because that's what will make you great.
In the videos you spend less time watching David demonstrate and more time listening to him talk and ask you questions – about really important things. It's like having a fireside chat with David; the fire is a monitor and the warmth you feel is David. The Compelling Frame is not just a series of videos to be watched passively, this is a class, and to get the most out of it you'll want to do the exercises that accompany each lesson. It's well thought out. This is the good work we all need to do. This includes looking carefully at other photographers images, looking carefully at your own, and making new ones. Do this work and you can't help but make better photographs.
What do you get when you purchase The Compelling Frame? 19 Video Lessons, 31 Creative Exercises, 4 About The Image videos, 2 Craft & Creativity Videos, 2 eBooks, 3 Ask Me Anything Sessions, a one-year membership to Vision Driven a private Facebook community, and 10% off future MentorClasses.
The Compelling Frame is available for one week only – until Sep 20, 2017.
Preview The Compelling Frame here now.