29 Great Quotes On Appreciation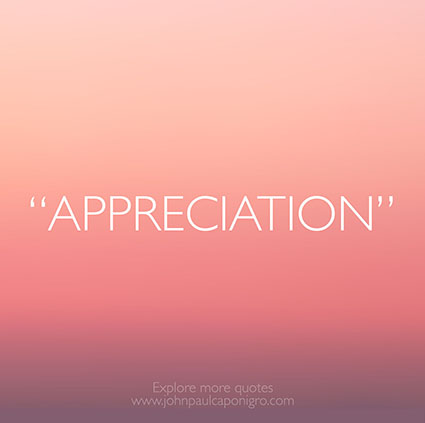 Enjoy this collection of quotes on Appreciation.
"Give thanks for a little and you will find a lot." Hansa Proverb
"The roots of all goodness lie in the soil of appreciation for goodness." – Dalai Lama
"By taking the time to stop and appreciate who you are and what you've achieved – and perhaps learned through a few mistakes, stumbles and losses – you actually can enhance everything about you. Self-acknowledgment and appreciation are what give you the insights and awareness to move forward toward higher goals and accomplishments." – Jack Canfield
"Appreciation is a wonderful thing. It makes what is excellent in others belong to us as well." ― Voltaire
"The difference between appreciation and flattery? That is simple. One is sincere and the other insincere. One comes from the heart out; the other from the teeth out. One is unselfish; the other selfish. One is universally admired; the other universally condemned." ― Dale Carnegie
"The way to develop the best that is in a man is by appreciation and encouragement." – Charles M. Schwab
"The invariable mark of wisdom is to see the miraculous in the common." ― Ralph Waldo Emerson
"Nature's beauty is a gift that cultivates appreciation and gratitude." – Louie Schwartzberg
"Dwell on the beauty of life. Watch the stars, and see yourself running with them." ― Marcus Aurelius
"I would rather be able to appreciate things I cannot have than to have things I am not able to appreciate." ― Elbert Hubbard
"To get the full value of joy you must have someone to divide it with." ― Mark Twain
"Knowing how things work is the basis for appreciation, and is thus a source of civilized delight." – William Safire
"Indeed, I would feel that an appreciation of the arts in a conscious, disciplined way might help one to do science better." – Subrahmanyan Chandrasekhar
"But perhaps the rest of us could have separate classes in science appreciation, the wonder of science, scientific ways of thinking, and the history of scientific ideas, rather than laboratory experience." – Richard Dawkins
"The trouble with music appreciation in general is that people are taught to have too much respect for music they should be taught to love it instead." – Igor Stravinsky
"Knowing what paint a painter uses or having an understanding of where he was in the history of where he came from doesn't hurt your appreciation of the painting." – Jodie Foster
"I learned more from my mother than from all the art historians and curators who have informed me about technical aspects of art history and art appreciation over the years." – David Rockefeller
"Artworks are especially good at helping our psyches in a variety of ways: they rebalance our moods, lend us hope, usher in calm, stretch our sympathies, reignite our senses, and reawaken appreciation." – Alain de Botton
"The essence of all beautiful art is gratitude." – Friedrich Nietzche
"I've learned that universal acceptance and appreciation is just an unrealistic goal." – Dan Brown
"As we express our gratitude, we must never forget that the highest appreciation is not to utter words, but to live by them." – John F. Kennedy
"The more one does and sees and feels, the more one is able to do, and the more genuine may be one's appreciation of fundamental things like home, and love, and understanding companionship." – Amelia Earhart
"To be more childlike, you don't have to give up being an adult. The fully integrated person is capable of being both an adult and a child simultaneously. Recapture the childlike feelings of wide-eyed excitement, spontaneous appreciation, cutting loose, and being full of awe and wonder at this magnificent universe." – Wayne Dyer
"If you drive to, say, Shenandoah National Park, or the Great Smoky Mountains, you'll get some appreciation for the scale and beauty of the outdoors. When you walk into it, then you see it in a completely different way. You discover it in a much slower, more majestic sort of way." – Bill Bryson
"Workaholics typically have a lot of achievement with very little appreciation of what they have, whether it's cars or friendships or otherwise. That is a shallow victory. Then you have people with a lot of appreciation and no achievement, which is fine, but it doesn't create a lot of good in the world." – Timothy Ferriss
"The two hardest tests on the spiritual road are the patience to wait for the right moment and the courage not to be disappointed with what we encounter." ― Paulo Coelho
"The achievement is appreciation. Your ability to be surprised and awed by beauty!" – William Hurt
"I do not equate productivity to happiness. For most people, happiness in life is a massive amount of achievement plus a massive amount of appreciation. And you need both of those things." – Timothy Ferriss
"Too much of a good thing can be wonderful!" ― Mae West
Explore The Essential Collection Of Creativity Quotes here.
View The Essential Collection Of Creativity Videos here
Discover more quotes in my social networks.