41 Great Quotes On Finished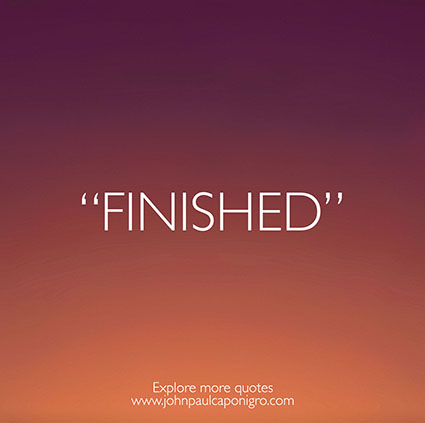 Enjoy this collection of quotes on the state of being Finished.
"There must be a beginning of any great matter, but the continuing unto the end until it be thoroughly finished yields the true glory." – Francis Drake
"Begin – to begin is half the work, let half still remain; again begin this, and thou wilt have finished." – Marcus Aurelius
"Art is never finished, only abandoned." – Leonardo da Vinci
"Painting, sculpture and architecture are finished, but the art habit continues." – Robert Smithson
"A man is not finished when he's defeated. He's finished when he quits." – Richard M. Nixon
"It is inevitable that some defeat will enter even the most victorious life. The human spirit is never finished when it is defeated… it is finished when it surrenders." – Ben Stein
"When you're finished changing, you're finished." – Benjamin Franklin
"A finished person is a boring person." – Anna Quindlen
"I long for my garden to be complete. Working in it is one of my joys, but it will never be finished because it's forever changing with the seasons." – Mary Quant
"In many ways, theatre is more rewarding for a writer. I used to think it was like painting a wall – that when the play is finished, it's done – but now I realize it's more like gardening; you plant the thing, then you have to constantly tend it. You're part of a thing that's living." – Lee Hall
"I know that one of the great arts that the writer develops is the art of saying, 'No. No, I'm finished. Bye.' And leaving it alone. I will not write it into the ground. I will not write the life out of it. I won't do that." – Maya Angelou

"Doing nothing is very hard to do… you never know when you're finished." – Leslie Nielsen
"A painting that is well composed is half finished." – Pierre Bonnard
"Every other artist begins with a blank canvas, a piece of paper the photographer begins with the finished product." – Edward Steichen
"There is a considerable amount of manipulation in the printmaking from the straight photograph to the finished print. If I do my job correctly that shouldn't be visible at all, it should be transparent." – John Sexton
"I consider it essential that the photographer should do his own printing and enlarging. The final effect of the finished print depends so much on these operations." – Bill Brandt
"You can't start a movie by having the attitude that the script is finished, because if you think the script is finished, your movie is finished before the first day of shooting." – Steven Spielberg
"When a documentary filmmaker, working in the style that I do, suggests that there has been a shooting ratio of 40 hours to every one hour of finished film, that doesn't mean that the other 39 are bad." – Ken Burns
"Every job is different. I don't think that I've ever had that wonderful feeling when you've finished a job or where you feel like you've mastered it or sort of nailed it… You can never be satisfied. If you're satisfied, it's time to retire." – Alfred Molina
"I'm not out trying to prove anything. I'm sort of finished with that, so I get to play in other sandboxes and try and figure out what I like and I'm interested in." – George Clooney
"I'm a synthesist. I'm always making music. And I make a lot of different kinds of music all the time. Some of it gets finished and some of it doesn't." – Bruce Springsteen
"I always rewrite each day up to the point where I stopped. When it is all finished, naturally you go over it. You get another chance to correct and rewrite when someone else types it, and you see it clean in type. The last chance is in the proofs. You're grateful for these different chances." – Ernest Hemingway
"After it's finished, sometimes I can trace a path that goes back to the possible source of inspiration." – Tracy Chapman
"To consult the statistician after an experiment is finished is often merely to ask him to conduct a post mortem examination. He can perhaps say what the experiment died of." – Ronald Fisher
"I know the sag of the unfinished poem. And I know the release of the poem that is finished." – Mary Oliver
"When one has finished building one's house, one suddenly realizes that in the process one has learned something that one really needed to know in the worst way – before one began." – Friedrich Nietzsche
"A classic is a book that has never finished saying what it has to say." – Italo Calvino
"A finished work is exactly that, requires resurrection." – John Cage
"When I am working on a problem, I never think about beauty but when I have finished, if the solution is not beautiful, I know it is wrong." – R. Buckminster Fuller
"I always work out of uncertainty but when a painting's finished it becomes a fixed idea, apparently a final statement. In time though, uncertainty returns… your thought process goes on." – George Baselitz
"A lot of scientists hate writing. Most scientists love being in the lab and doing the work and when the work is done, they are finished." – Stephen Jay Gould
"I learn all these things about the record talking about it after it's finished." – Tracy Chapman
"When you have an idea for a work and when you've finished your model for it, for the artist it's almost complete, in a way. But then bringing it to the finish is really something you do for the audience. It is always exciting." – Jeff Koons
"Until it's on the radio or online, it's not real. With U2, our album isn't finished until it's in the stores." – Bono
"Why should I stop working? If I do, I'll die and it'll all be finished." – Karl Lagerfeld
"I felt after I finished Slaughterhouse-Five that I didn't have to write at all anymore if I didn't want to. It was the end of some sort of career. I don't know why, exactly. I suppose that flowers, when they're through blooming, have some sort of awareness of some purpose having been served. Flowers didn't ask to be flowers and I didn't ask to be me. At the end of Slaughterhouse-Five…I had a shutting-off feeling…that I had done what I was supposed to do and everything was OK ."
― Kurt Vonnegut Jr
"Finish each day and be done with it. You have done what you could. Some blunders and absurdities no doubt crept in; forget them as soon as you can. Tomorrow is a new day. You shall begin it serenely and with too high a spirit to be encumbered with your old nonsense." – Ralph Waldo Emerson
"We have finished the job, what shall we do with the tools?" – Haile Selassie
"There will come a time when you believe everything is finished. Yet that will be the beginning." – Louis L'Amour
"Here is a test to find whether your mission on Earth is finished: If you're alive, it isn't." – Richard Bach
"Nature is never finished." – Robert Smithson
Explore The Essential Collection Of Creativity Quotes here.
View The Essential Collection Of Creativity Videos here.
Discover more quotes in my social networks.