36 Great Quotes On Concentration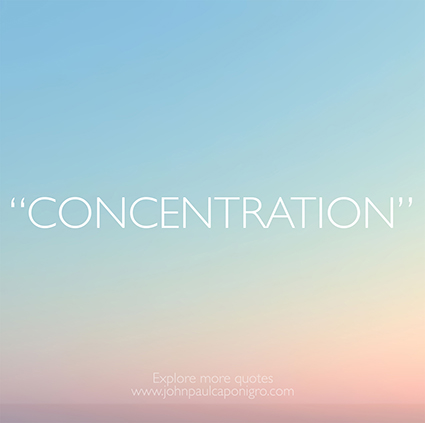 Enjoy this collection of quotes on Concentration.
"The power to concentrate was the most important thing. Living without this power would be like opening one's eyes without seeing anything." ― Haruki Murakami
"Concentration is the secret of strength." – Ralph Waldo Emerson
"Concentrated attention is the collection of units of power on a chosen point of intention." – James Arthur Ray
"If you don't concentrate on what you are doing then the thing that you are doing is not what you are thinking." – Alfred, Lord Tennyson
"Don't dissipate your powers; strive to concentrate them." – Goethe
"One reason so few of us achieve what we truly want is that we never direct our focus; we never concentrate our power. Most people dabble their way through life, never deciding to master anything in particular." – Anthony Robbins
"Each man is capable of doing one thing well. If he attempts several, he will fail to achieve distinction in any." – Plato
"The difference in men does not lie in the size of their hands, nor in the perfection of their bodies, but in this one sublime ability of concentration: to throw the weight in one blow, to live eternity in an hour." – Elbert Hubbard
"The five essential entrepreneurial skills for success are concentration, discrimination, organization, innovation and communication. -Michael Faraday
"Concentration is my motto — first honesty, then industry, then concentration. -Andrew Carnegie
"The ability to concentrate and to use time well is everything." – Lee Iacocca
"Singleness of purpose is one of the chief essentials for success in life, no matter what may be one's aim." – John D. Rockefeller
"The joy of life is born of concentration. When you are having a cup of tea, the value of that experience depends on your concentration. You have to drink the tea with 100 percent of your concentration." – Thich Nhat Hanh
"To be concentrated means to live fully in the present." – Erich Fromm
"Concentration is the ability to think about absolutely nothing when it is absolutely necessary." – Ray Knight
"Intelligence is the door to freedom and alert attention is the mother of intelligence." – Jon Kabat-Zinn
"Concentrate on your motivation… and the thought of what about the scene made you stop to look." – Richard K. Kaiser
"The artist works with a concentration of his whole personality, and the conscious part of it resolves conflicts, organized memories, and prevents him from trying to walk in two directions at the same time." – Henry Moore
To be able to concentrate for a considerable time is essential to difficult achievement." -Bertrand Russell
"I never could have done what I have done without the habits of punctuality, order, and diligence, without the determination to concentrate myself on one subject at a time…" – Charles Dickens
"Concentrate all your thoughts upon the work at hand. The sun's rays do not burn until brought to a focus." – Alexander Graham Bell
"The only way I could work properly was by using the absolute maximum of observation and concentration that I could possible muster." – Lucian Freud
"Concentration comes out of a combination of confidence and hunger." – Arnold Palmer
"The more intensely we feel about an idea or a goal, the more assuredly the idea, buried deep in our subconscious, will direct us along the path to its fulfilment." – Earl Nightingale
"Great art is always a way of concentrating, reinventing what is called fact, what we know of our existence – a reconcentration… tearing away the veils that fact acquires through time." – Francis Bacon
"Who knows how many artists fail because the light that shines through them is defracted in a thousand directions and not concentrated in a single beam?" – Eric Maisel
"Nothing more wonderfully concentrates a man's mind than the sure knowledge he is to be hanged in the morning." – Samuel Johnson
"Concentrate: you can't have it all." – Twyla Tharp
"Lack of direction, not lack of time, is the problem. We all have twenty-four hour days." – Zig Ziglar
"Obstacles are those frightful things you see when you take your eyes off your goal." –
Henry Ford
"Focus more on your desire than on your doubt, and the dream will take care of itself." – Mark Twain
"I don't focus on what I'm up against. I focus on my goals and I try to ignore the rest." – Venus Williams
"Concentration is a fine antidote to anxiety." Jack Nicklaus
Focusing is about saying "No". – Steve Jobs
"Without touching my subject I want to come to the moment when, through pure concentration of seeing, the composed picture becomes more made than taken. Without a descriptive caption to justify its existence, it will speak for itself – less descriptive, more creative; less informative, more suggestive – less prose, more poetry." – Ernst Haas
"Elegance is achieved when all that is superfluous has been discarded and the human being discovers simplicity and concentration: the simpler and more sober the posture, the more beautiful it will be." – Paulo Coelho
Explore The Essential Collection Of Creativity Quotes here.
View The Essential Collection Of Creativity Videos here.
Discover more quotes in my social networks.