28 Great Quotes On Flexibility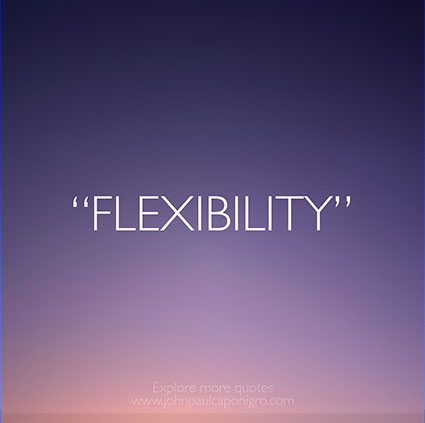 Enjoy this collection of quotes on flexibility.
"The hallmark of creative people is their mental flexibility… Sometimes they are open and probing, at others they're playful and off-the-wall. At still other times, they're critical and faultfinding. And finally they're doggedly persistent in striving to reach their goals.' – Roger von Oech
"The intuitive mind is a sacred gift and the rational mind is a faithful servant. We have created a society that honors the servant and has forgotten the gift." – Albert Einstein
"The conscience is the most flexible material in the world. Today you cannot stretch it over a mole hill; while tomorrow it can hide a mountain." – Edward G. Bulwer-Lytton
"The measure of intelligence is the ability to change." ― Albert Einstein
"We learn flexibility and adaptability." – John Roper
"Freedom always deals with 'the possible'; this gives freedom its great flexibility, its fascination, and its dangers." – Rollo May
"Peak performers see the ability to manage change as a necessity in fulfilling their missions." – Charles A. Garfield
"Be flexible, but stick to your principles." – Eleanor Roosevelt

"Stay committed to your decisions, but stay flexible in your approach." – Tony Robbins
"We are stubborn on vision. We are flexible on details." – Jeff Bezos
"Leaders honor their core values, but they are flexible in how they execute them." – Colin Powell
"An effective leader allows exceptions to the rule for exceptional results or when circumstance demands." – John Wooden
"The best leaders don't know just one style of leadership—they're skilled at several, and have the flexibility to switch between styles as the circumstances dictate." – Daniel Goleman
"What is malleable is always superior to that which is immovable. This is the principle of controlling things by going along with them, of mastery through adaptation." – Lao Tzu
"Flexibility is the key to stability." – John Wooden
"Blessed are the hearts that can bend; they shall never be broken." – Albert Camus
"Blessed are the flexible for they will not allow themselves to become bent out of shape!" – Robert Ludlum
"Adaptability is not imitation. It means power of resistance and assimilation." – Mahatma Gandhi
"Even under the most difficult circumstances you can have creative flexibility." – Anne M. Mulcahy
"The art of life lies in a constant readjustment to our surroundings." – Kakuzo Okakura
"Adapt or perish, now as ever, is nature's inexorable imperative." – H. G. Wells
"Let no one think that flexibility and a predisposition to compromise is a sign of weakness or a sell-out." – Paul Kagame
"Life is a process of becoming, a combination of states we have to go through. Where people fail is that they wish to elect a state and remain in it. This is a kind of death." – Anaïs Nin
"All changes, even the most longed for, have their melancholy; for what we leave behind us is a part of ourselves; we must die to one life before we can enter another." – Anatole France
"Thus, flexibility, as displayed by water, is a sign of life. Rigidity, its opposite, is an indicator of death." – Anthony Lawlor
"A man is born gentle and weak. At death, he is hard and stiff. Green plants are tender and filled with sap. At death, they are withered and dry. Therefore, the stiff and unbending is the disciple of death, and the gentle and yielding is the disciple of life." – Lao Tzu
"Life is movement. The more life there is, the more flexibility there is. The more fluid you are, the more you are alive." – Arnaud Desjardins
"Empty your mind, be formless. Shapeless, like water. If you put water into a cup, it becomes the cup. You put water into a bottle and it becomes the bottle. You put it in a teapot it becomes the teapot. Now, water can flow or it can crash. Be water my friend." – Bruce Lee
Explore The Essential Collection Of Creativity Quotes here.
View The Essential Collection Of Creativity Videos here.
Discover more quotes in my social networks.