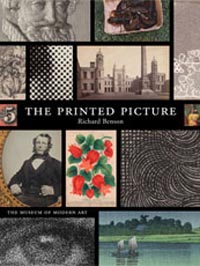 Photographer Richard Benson is the man behind the highly informative new exhibit at the Museum of Modern Art in NYC – The Printed Picture (on exhibit through June, 2009). Anyone who goes will expand their understanding photographic printmaking and it's short but rich history. I did. In it you'll see exceptional examples of a wide variety of printmaking methods from offset to gravure, platinum to silver gelatin, and inkjet. I highly recommend the exhibit and the accompanying book.
"The Printed Picture traces the changing technology of picture-making from the Renaissance to the present, focusing on the vital role of images in multiple copies. The book surveys printing techniques before the invention of photography; the photographic processes that began to appear in the early 19th century; the marriage of printing and photography; and the rapidly evolving digital inventions of our time. From woodblocks to chromolithographs, from engravings to bar codes, from daguerreotypes to modern color photographs, the book succinctly examines the full range of pictorial processes. Exploring how pictures look by describing how they are made, author Richard Benson reaches fascinating and original conclusions about what pictures can mean. Includes 326 illustrations."
Also visit the exhibit of Benson's personal work – Found Views, Chosen Colors – at the Pace Macgill Gallery in New York through November 29.
Seen it? Comment here!
Find out more about The Printed Picture here.
Get the book here.
Visit Found Views, Chosen Colors online here.
Read my conversation with Richard Benson here.