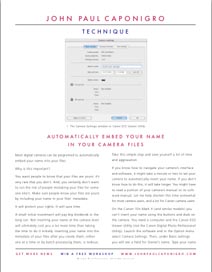 Protect your rights and get greater recognition for your work at the same time. Insert your copyright and contact information in every one of your files and their derivatives. It's easy to do. Make it a habit.
You can program your camera to insert your name and contact information automatically.
Check out my PDF on how to do this with Canon cameras here.
You can also batch insert metadata to any file with Adobe products like Lightroom and Bridge.