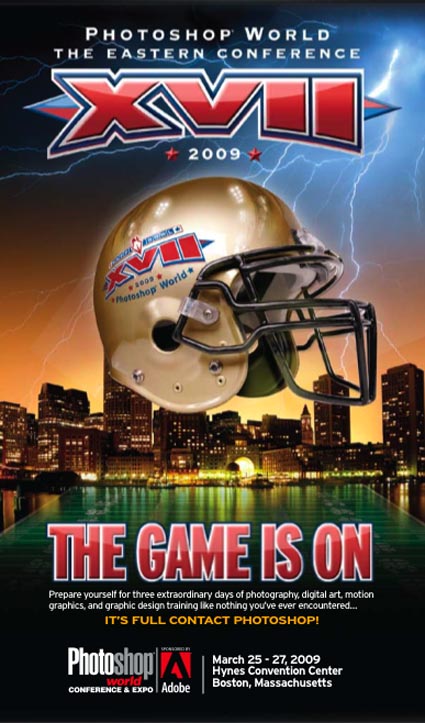 Photoshop World is coming to Boston March 25 – 27.
Find out more here.
Check the website for video coverage of the last Photoshop World.
Download the Photoshop World PDF for a complete run down.
This conference is first rate. Over 40 top notch instructors present non-stop digital seminars for three full days and nights. The staff is super-friendly. There's a tremendous sense of community everyone attending can participate in.
What they claim is true. "No other conference offers as much training as Photoshop World! Most conferences are just large trade exhibitions with a few panels, forums and classes sprinkled in. Photoshop World is almost the exact opposite. We concentrate on giving you training, training, and more training. Then, we couple that with an impressively sized expo with even MORE training sessions, and throw in a bunch of fun after-hour activities for good measure. There really is nothing quite like it anywhere else!"
I'm scheduled for four events.
Precon – Epson Print Academy – Tuesday March 24 from 1-5 pm.
Panel – The Fine Art of Digital – Thursday, March 26 from 7-9 pm.
Seminar – The Fine Digital Print – Friday March 27 from 11 am -12 pm.
Seminar Drawing With Light – Friday March 27 from 1-2 pm.
NAPP members get special discounts – up to $100 off.
If you're not a member and you plan on attending become a member.
It's even better than getting a free membership.
Photoshop World alumni get even steeper discounts – over $100 off.
Kelby Training subscribers get an extra $50 off.
Register early (by February 20, 2009) for Photoshop World and save an extra $100.