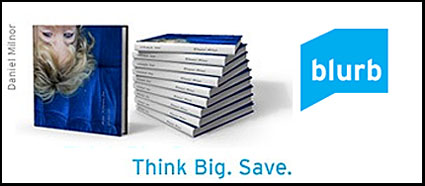 With Blurb you can order one copy of your book or many. Volume order discounts begin on orders of ten or more copies of the same book. For orders of 1,000 or more, Blurb offers offset printing for better economies of scale. Your discount grows along with the size of your order.
What are the discounts?
10    – 199     10%
200 – 400    15%
401 – 999     Request a POD price quote here.
1000+          Request an Offset price quote here.
Find out more and get answers to these frequently asked questions here.
–  Do I need to order a proof book before I submit a volume order?
– Will my volume order books look like my proof book?
– How much is shipping?
– How can I get a price quote for a volume order?
– What is the total turnaround time for volume orders?
– Why do volume orders take longer to process?
– What are my payment options for a volume order?
Learn more with my Bookmaking Lessons.
Learn more in my Fine Art Digital Printing Workshops.