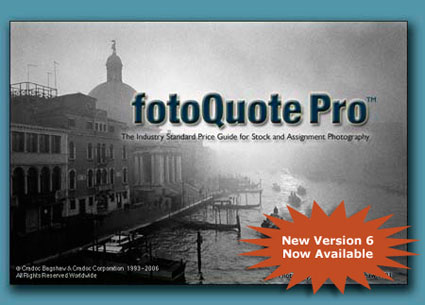 Looking for information on how to price licensing and assignment work?
PhotoQuote Pro is the software I use.
Get 10-15% off with this code (upgrades excluded) – JPC0111.
Stock and Assignment Photo Price Guide
"When someone wants to use one of your photos, you don't need a number pulled out of a hat, you need help to get paid fairly for your work. You need fotoQuote, the industry standard photo pricing guide for stock and assignment photography.
The fotoQuote photo pricing guide is the only source of photo pricing information for photographers that includes powerful coaching help for every category. The fotoQuote price guide not only helps you come up with a fair price for your image license, but it also gives you the negotiation information you need to help you close the sale."
FotoQuote Pro 6 New Features
New Markets
Over 86 new categories, including 35 video stock footage categories
New Stock Photography Pricing Categories
86 new photo pricing categories, bringing the total to 304
Updated Stock and Assignment Photography Prices
New Coach Information
38 Assignment Coach topics, including tips on breaking into the video market
Redesigned Interface Enhancements
Streamlined interface makes this the easiest to use fotoQuote ever
Quote Packs
Easy Quote Creation with Thumbnails & License by Image
New International Features
New Stock Photo Pricing Coach Information
Everything you need for pricing and negotiating is at your fingertips
Pricing Assignment Photography
With the new and updated Coach categories the Assignment Coach is so full of information that it's like having a photo pricing seminar built into the program. You also get negotiating suggestions on how to deal with clients …"
Learn more about PhotoQuote here.
Find more business resources here.
Learn more in my Digital Printing and Digital Photography workshops.