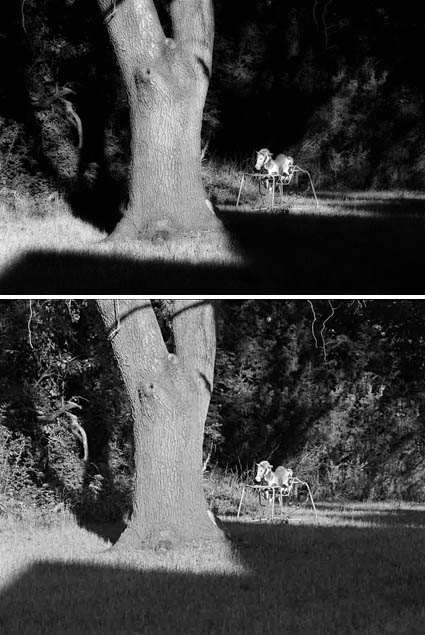 (The above images are after and before.)
This is just one of the many reasons to teach. You make a real difference for some really great people. Harry Sandler had a breakthrough last week. He connected emotionally and intellectually to the work he was doing with a level of clarity he hadn't achieved before. It's given him a better sense of himself, the reasons he does the work he does, and how to approach both his old and new work. Mastering any tool (especially Photoshop) means more than knowing how to use it; it means knowing how to apply it to achieve specific results. To achieve those, you first have to know what you want to achieve – and why.
Here's the letter Harry sent me after he left the workshop.
"John Paul,
First of all many thanks for a wonderful experience at your Fine Digital Print Expert workshop – it far outweighed my expectations. I am most appreciative of how technical information was balanced with the idea of discovering one's artistic voice.
Having dabbled in imagery for most of my life without ever fully realizing what moved and in turn motivated me I enjoyed being pushed a bit toward finding a technical solution to being able to express myself physically, a breakthrough, albeit just a start, that happened on the third day of the workshop.
When asked to stretch the limits of one image (an image that we felt to be a cornerstone for a body of work) by taking it in various directions I had an epiphany of expression within myself. In particular it would appear that I connected this photo (and the way it was printed) with some inner turmoil from my childhood that opened during this exercise, and, that sense of discovery continued after working on another file from the same body of work. The instant feedback from the print resonated deeply and appears to be the catalyst for moving farther down the road to more self-discovery.
A quote came to mind that evening while viewing the image: "Be still with yourself until the object of your attention affirms your presence" – Minor White
PS: On my drive back on Saturday I also noticed myself drifting off into the cloudy sky noticing small shifts of saturation and color so maybe there is hope for this old time black and white brain of mine.
Regards,
Harry Sandler"

Download my PDF Portfolio Review here.
Download my PDF Aesthetics of Printing here.
Find out about my Fine Digital Print workshop series here.
Find out about The Fine Digital Print Expert workshop here.