We're Still Dreaming Of Antarctica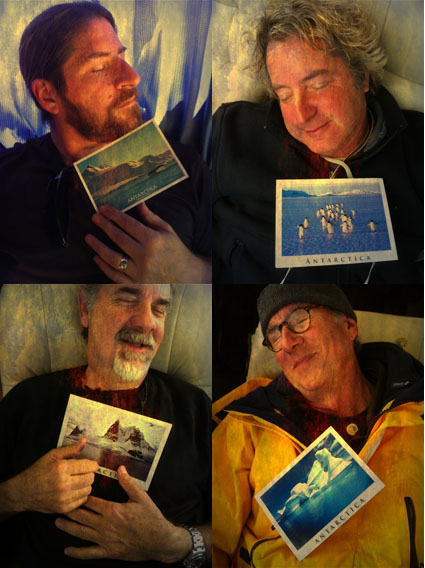 After a whirlwind tour of Los Glaciares National Park, Argentina and Torres Del Paine, Chile, Seth Resnick, Eric Meola, Arthur Meyerson and I are finally on our way home from our recent Antarctica voyage. (Check my Google+ , Twitter, or Facebook streams for a collection of quotes on travel and home.)
We're all still dreaming of Antarctica. Whether for the first time (Arthur and Eric) or for the fourth time (Seth and I) Antarctica touched us all very deeply. We all had unique experiences. We all made compelling images in our own unique ways. And we were able to share the experience together. And yet, no matter how hard we try to put those experiences into words, something about the place defies description. Antarctica is a profoundly mysterious place. Antarctica is so exotic that when you're there you often feels like you've visited another planet.
Here are a few quick thoughts from each of us.
"I saw deeper shades of blue than I've ever seen before. And I was able to get closer to it and find more dramatic angles than ever before. Every time we go back there are new surprises to discover."  – Seth Resnick
"Antarctica was the fulfillment of a life time dream … the magical mystery tour. The light, the landscape, the color blue – otherworldly. I have never experienced anything like this before. I felt as though I was on another planet." – Arthur Meyerson
"What impressed me most about Antarctica was the silence. I've never been anywhere as spiritual. Most places are spiritual because of their religion. This was a place that is spiritual because of its natural beauty. I sensed that everyone around me felt the same way. Although photographers become mesmerized by their subjects, for the first time I sensed that the spirituality of the place affected them very deeply. All of us were absorbing the beauty around us." – Eric Meola
"Antarctica is never the same twice. It's like a mirage that never fades. It seems simultaneously eternal and ephemeral. It's as if spirit took shape – and when you got there you get to touch it, immerse yourself in it, and take it into you. You cannot go to Antarctica and return unchanged." – John Paul Caponigro
Digital Photo Destinations is planning a new Antarctica workshop voyage for 2013.
Sign up for our pre announce list to be among the first to hear about it.
Email jpc@digitalphotodestinations.
Find out more about Antarctica here.